SOLAR ELECTRICITY IN KENYA AND UGANDA
HOW TO POWER A TV OR STEREO OR DESKTOP COMPUTER OR LAPTOP COMPUTER FROM SOLAR ELECTRICITY
Should you call in a registered solar person or company to fit your solar electricity. If you can afford it that is the best thing to do.
==============================
To power a TV or stereo or pc computer or dvd viewer using solar electricity you have to know the Wattage.

Watts is an electrical descriptive word. Watts tells you how much energy an electrical device uses and therefore roughly what size solar panel you need.
A small electrical fan uses about 16 Watts of electricity. That is not much electricity
A one horsepower electric motor uses about 745 Watts of electricity. That is a lot of electricty
All consumer electrical equipment have a label on the back telling how much electricity it uses. This is measured in WATTS..
Here is a guide how many WATTS different electrical items use.
======================================

THESE OLDER ITEMS HERE ARE ALL 230 VOLT MAINS POWERED EQUIPMENT. THESE ITEMS WILL BE EXPENSIVE FOR SOLAR ELECTRICITY. YOU NEED A LARGE SOLAR PANEL, A LARGE BATTERY AND A 12 VOLT TO 230 VOLT INVERTER.

Older crt tv 20 inch size............................ ..........100 watts.. 230 volt.... needs an inverter
Older crt tv 30 inch size ............. ........................200 watts.. 230 volt.... needs an inverter
Older computer monitor 15 inch ........................ 100 watts.. 230 volt.... needs an inverter
Older computer monitor 17 inch .........................150 watts.. 230 volt.... needs an inverter
Flat screen computer monitor 17 inch...................50 watts.. 230 volt.... needs an inverter
Older desk top computer......................... 100 to 300 watts... 230 volt.... needs an inverter
Older laptop computer........................................ 150 watts... 230 volt.... needs an inverter

=====================================

THESE ITEMS HERE ARE LOW POWER AND CAN BE USED ON SOLAR ELECTRICITY AND NOT TOO EXPENSIVE. I AM USING THE FLAT SCREEN 10 INCH TV. LOOK ON THE BACK OF EACH ITEM TO MAKE SURE IT CAN RUN ON 12 VOLTS.

Dvd player .................................................. 20 watts
Digital picture viewer ................................... 25 watts
Flat screen tv 7 inch...................................... 20 watts
Flat screen tv 10 inch ................................... 30 watts

======================================

THESE ITEMS ARE GETTING UP IN POWER WILL NEED A LARGER SOLAR PANEL AND A LARGER BATTERY
Modern laptop computer............................. 50 watts ............19 volt... Modern laptops use Lithium batteries inside the laptop and need a 12 volt dc to 230 volt ac inverter to power the laptop 19 volt battery charger.
Stereo music system ..........................20 to 100 watts ............12 volt Could be 230 volt mains powered using tape player, cd player, even record player
Flat screen tv 20 inch .................................. 60 watts.............12 volt.. make sure
Flat screen tv 30 inch.................................. 100 watts ............12 volt.. make sure

NOTES ABOUT THE BATTERY
Choosing the right kind of battery setup is important
There are two ways of using the battery that we can investigate.
One way is to have just one large deep cycle battery that powers everything. There are problems here because if it is a large battery you do not want to move it around so it is fixed in one place. That means you watch tv or watch dvd, or listen to music from tapes or cd or use all solar equipment at the one place. You have to find the money to buy the deep cycle battery. What size do you get.. If you buy a battery that is too small you can not use the solar electricity as much as you would like.
This is a difficult problem because one battery to store all your solar electricity is very expensive.
I am looking at buying several small deep cycle batteries rather than one large one. My first task is to get the television going. I am not going to have solar electricity used for general lighting. I would rather have individual solar lights. I already have quite a few. If you wish to have solar electricity to run all your 230 volt lights in your house you can do it quite easily but it is expensive.
The other way to think about the battery is to have one smaller deep cycle sealed battery for each purpose. One battery for the television. One battery for the stereo music. One battery for the dvd player. One battery for my desktop computer. At present my desktop computer is 300 watts 230 volt mains power. That is a lot of power for solar electricity so I am looking at much smaller computers working on 12 volts.. I still have all the solar panel battery charging equipment at the one location but I dont have to put wires from the battery location to different rooms because I just pick up a smaller battery and take it to where I want to go. Could be my bedroom to watch television, could be to take the dvd player to the childrens room. I have to remember to bring the battery back to the charging station to be charged up by the solar panel.. If i need another battery lets say my children grow up and need a small computer in their room I might have to buy an extra solar panel. Doing it this way with the batteries means you are not totally reliant on one very expensive deep cycle battery. You have several smaller batteries. You have several solar panels on the roof. So you have more security in your solar electricity system.
I think doing it this way is much much cheaper than any other way because I only have to buy one small size battery, one small size solar panel at a time rather than big expensive stuff right away. Thats what I am doing.
Some modern laptops have a 19 volt lithium battery built in to the laptop so they need a small size 12volt dc to 230 volt ac inverter to operate the laptop 19 volt battery charger.
(8) Voltage inverters change the voltage from one voltage to another. The cost is proportional to the wattage required. An inverter handling 20 Watts is small and not expensive. An inverter handling 1000 Watts power is large and expensive..

If you buy one expensive deep cycle battery and it is damaged by a short circuit on the battery wires, or it is used until it is flat then that battery can be ruined and cost you a lot of money to replace.. However if you have several smaller size batteries instead of one large battery and one of the smaller batteries is ruined by mistake the replacement cost is smaller than buying a large size battery. It is reducing the risk..
This shows the two ways.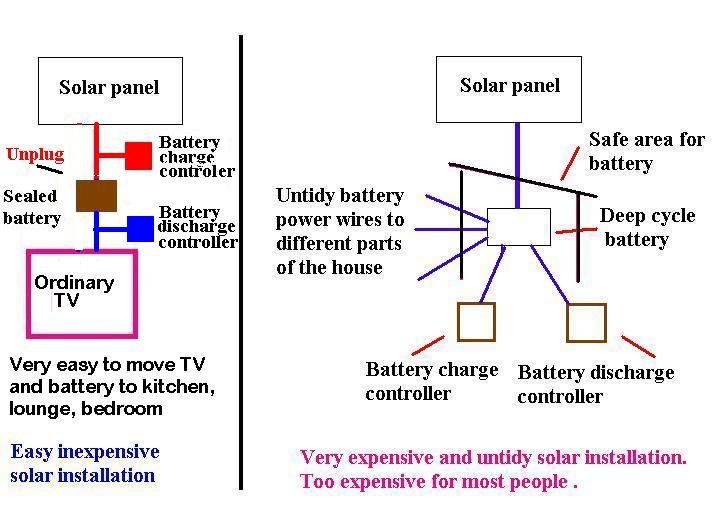 TYPES OF BATTERY FOR SOLAR ELECTRICITY
Car battery. These are not recommended for solar electricity. They are for starting the motor car. They have thin plates. They are the cheapest type of lead acid battery. There are car batteries everywhere easy to get. It is possible they can be used for solar electricity if it is only a small solar system
Deep cycle battery. These are recomended for solar electricity. They have thicker plates. They can give more power for a longer time. Big disadvantage they are very expensive.
--------------------------------------------------------
This is the recommended charge/discharge for a lead acid car battery or deep cycle battery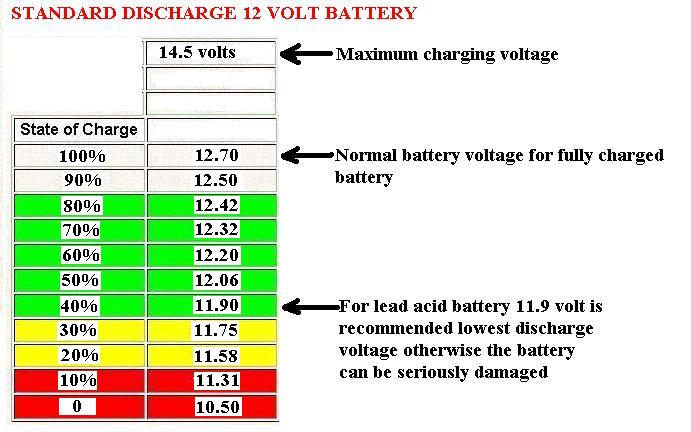 Use a modern digital voltmeter to measure the battery voltage from positive terminal to negative terminal. This is a good thing to do. You can see at any time if the battery is being charged by the solar panel. You can see if the battery is near to 11.90 volts.

===================================================
FOUR SERIOUS PROBLEMS
(1) You can see from the car battery charging chart above that when a battery is on charge from your solar panel the battery voltage can rise to 14.5 volts. If you connect a 12 volt TV or other 12 volt appliance to your battey while it is being charged by your solar panel there is the strong possibility the appliance will be seriously damaged. Do not connect an appliance to the battery while it is being charged
(2) You can see from the battery charging chart above,, the battery voltage should not drop below 11.90 volts or the battery will most likely be damaged.. Have a warning device or a low battery disconnect.
(3) Never put a short circuit on your battery. This can destroy your battery and may cause a fire. A short circuit can happen easily with temporary or unsafe battery wiring. Always have a fuse in the battery wiring..
(4) After the battery has reached 14.5 volts and stops charging it still has a voltage on the terminals of about 14.5 volts and slowly declines over several hours to it's fully charged voltage of 12.70 volts so it is still risky to plug that battery into some 12 volt devices.. The right thing to do is to put a load on the battery just for a few minutes to dissapate the residual terminal voltage. You can use a resistor of 12 ohms which will take 1 amp from the battery and after one or two minutes will return the terminal voltage to fully charged value of 12.70 volts.. Now you can plug the battery in to your tv set or dvd player or your stereo. This is being extra careful but you would be very very upset if one small error burned out your tv and the repair man said would cost too much to repair.. By using your inexpensive multimeter on your battery you can see all this very easily.
The battery system for your solar electricity is expensive. Best to take every good precaution with it.

====================================
To get started I am buying a second hand 12 volt car battery from a garage and a 25 watt solar panel and a 10 inch tv receiver with 12 volt input.

Why do this.
It is the cheapest option to learn about using sunshine to run your electronic equipment

A second hand car battery is the cheapest battery you can get and it will work if you are careful with the battery. Keep it charged. A flat battery deteriorates very quickly. Do not flatten the battery. If you do the battery may recover or it may be ruined. if you do not take much energy from the battery a car battery should do the job.. This is what I am trying to find out
With these three small items a 25 watt solar panel, a second hand car battery from the wreckers or car repair place and a small tv that works on 12 volt you can learn a lot. And also a cheap digital multimeter is a very good way to read the battery voltage.
It is a great idea to teach yourself and the children about solar electricity otherwise you have to pay a solar shop to do all the work for you and it is not cheap

I have a digital multimeter. I have bought the tv set and the battery I am waiting to get a solar panel on special.
I AM GOING TO CHARGE UP THE BATTERY USING A BATTERY CHARGER AND WATCH TELEVISION JUST AS IF IT WAS SOLAR ELECTRICITY.

(1) clean the battery with a cloth
(2) unscrew the battery water caps and check the fluid inside is just covering the battery plates. If not you need to add distilled water to just cover the battery plates, refit the caps. It must be clean distilled water. You can get distilled water from a battery shop or put out a clean plastic bowl and catch rainwater. Dirty water will ruin the battery
(3) Charge the battery until it reads 14.5 volts. I am charging the battery at one amp from a battery charger. When the battery voltage is 14.5 the battery is fully charged. Takes all day to charge the battery because I am using a very low charging current.. Disconnect the battery charger.
(4) The battery voltage is still high about 14 volts so I put a load on the battery a car 12 volt tail light from an old car. The light will bring the battery voltage quickly down to 12.7 volts. Remove the light.
(5) Now the battery is fully charged and ready. I test the battery using a temperature compensated hydrometer. These measure the specific gravity of the battery fluid and tell you if the battery is charged. These instrument is cheap and worth having because we can test the battery. If it is a sealed battery you cannot use a hydrometer.. A hydrometer tests the specific gravity of the battey water and tells you if the battery is fully charged or flat..
(6) Connect the battery to the 12 volt television. I used a lead from an old plug pack . The plug is the correct size for the television. Dont forget a fuse in the battery positive wire. This is for safety in case the battery wires get damaged. A 10 amp fuse will be ok.
(7) Turn on the television.
(8) See how long the battery voltage stays above 11.9 volts. This is an old second hand battery bought cheap from a car wrecker. My second hand car battery works ok for 1 hour which is not long enough time but the battery was nearly free.
Because that cheap battery did not last long enough I will have to buy a better battery and do more testing

But I tell you it was very exciting to see television on battery power..... This simple testing I have done means it is not difficult to get television from solar energy.

Here are some Television pictures from battery power..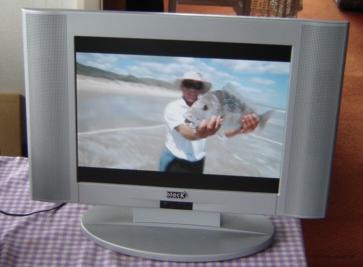 ......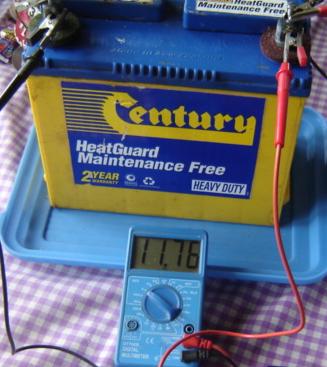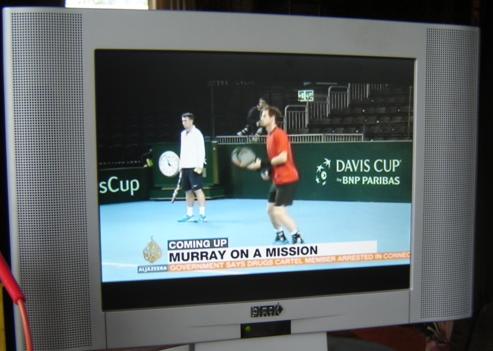 ......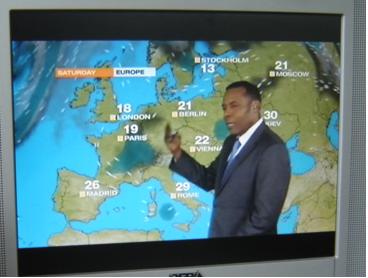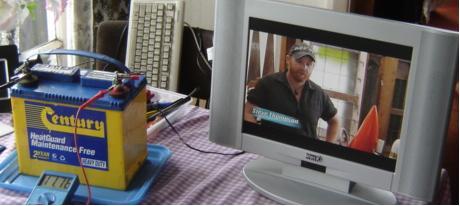 ==========================================
I have also found a good low cost solar panel controller. This one stops the battery overcharging, it disconnects the solar panel.... and also stops the battery being run down flat, it disconnects the television set or the stereo player or the dvd player.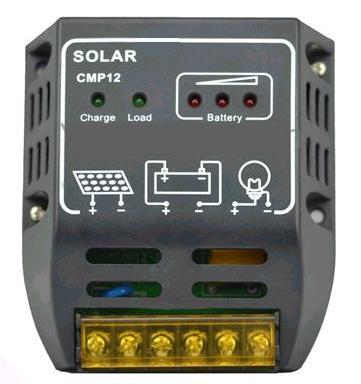 .....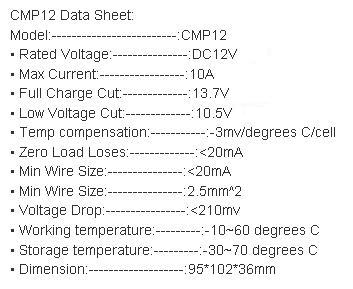 I have found out some dissapointing news. My cheap car battery from the garage only lasts 1 hour. But I could get lucky and find a car battery that lasts longer...
It seems using a car battery is wrong because the battery plates are too thin and if used all the time will not last very long.

I SHOULD NOT BE USING A CAR BATTERY I SHOULD BE USING A DEEP CYCLE BATTERY.
The 12 volt television set has a 2.5 amp current draw. I see that by reading the lable on the back of the tv. The correct type of battery is a deep cycle battery. Using an internet battery calculator I found out I need a 46Amp Hour deep cycle battery. There are plenty of these on the internet. The price is $180 NZ dollars which is about 9,000 kenyan shillings.
Here is how I calculate the current draw for this TV and then I can use an online calculator to tell me what capacity battery I need.
The correct formula is
AMPS = WATTS divided by VOLTS= 30 DIVIDED BY 12 = 2.5 AMPS.
I need a battery that can supply 2.5 AMPS
Here you can find the online battery calculator BATTERSTUFF.COM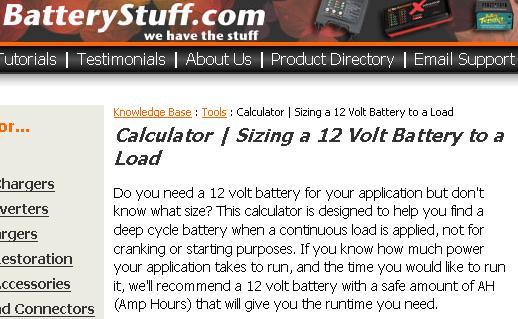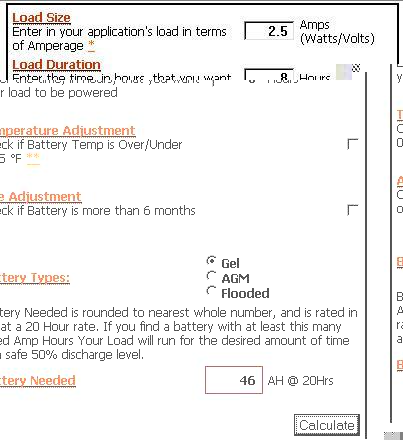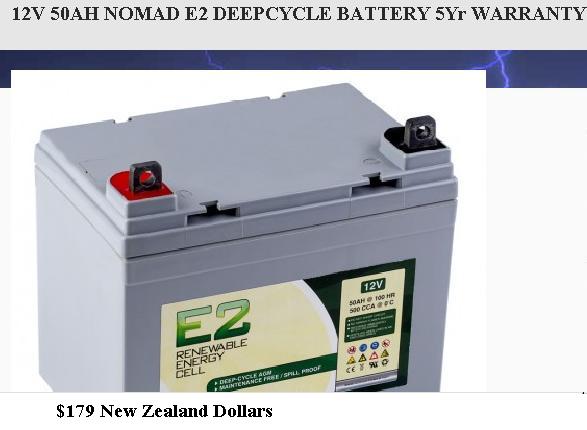 This 50 A/H battery can run my TV for 8 hours or my DVD player or my stereo sound player. The price in Kenya shillings is about 9,000-10,000
You can see there is a correct way to get a battery the right size to run your equipment.
(1) Find the current your equipment will draw from the battery
(2) Put in the time you want your equipment to run for eg 2 hours 4 hours 8 hours
(3) The calculator to tell you what size battery you need..

But there are other ways if you cannot afford a proper deeep cycle battery. I found a small gell battery which does not have liquid so you can charge it indoors. Here is the picture and comparrison to my large car battery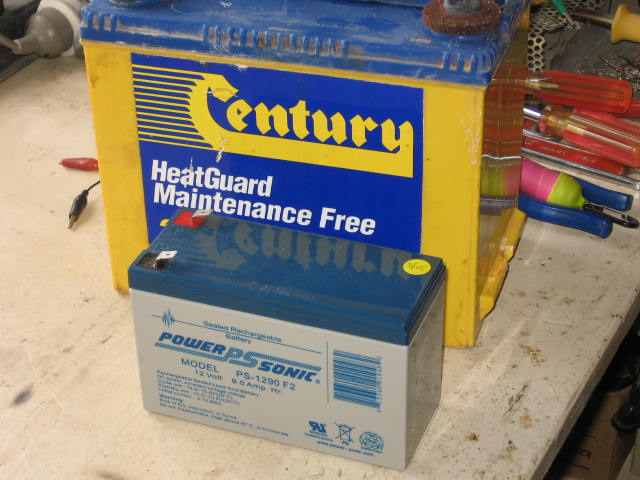 It is a small general purpose lead acid battery. It is not a car battery. I am not sure if it is a deep cycle battery. Cost me 40 New Zealand dollars which is about 2000 Kenyan shillings. In Kenya there may be other charges like sales tax so the price might be more.
IT IS A POWERSONIC BATTERY MODEL PS-1290 F2 .. 12 VOLT .. 9 AMP/HOUR RECHARGABLE SEALED LEAD ACID BATTERY WEIGHT 6 POUNDS ABOUT 3 KG
This small battery I can carry around easily. It will give me 2 hours of television on a 2.5 amp 30 watt 10 inch television set or two hours to play a Dvd in a Dvd player. If I had two of these reasonably cheap sealed batteries I could get twice the time..... I am quite happy with that.
But this here we are talking about a Television receiver on this small battery. A smaller TV such as a 7 inch TV would use less power from the battery and go for longer hours. A larger TV such as a 30 inch tv would use more power from the battery and go for shorter time. If we use the same TV which uses 2.5 amps from the battery and we want it to go for 8 hours we have to buy the larger battery pictured above. The 12 volt NOMAD battery and, since we are taking electrical energy from the battery for 8 hours we must now use a larger solar panel to put the energy back into the battery..
The most important thing I have learned I might be able to use a cheap general purpose battery for storing solar energy but to do it properly for long life I should be using a deep cycle battery.. The the deep cycle battery is built for the job but..... it is expensive.
My battery options are.
I can use a cheap car battery which is heavy
I can use an expensive deep cycle battery which is heavy
I can use a fairly cheap small size general purpose sealed lead acid battery which I can easily move around.
For the moment I have decided not to run the TV all night but only turn it on when there is something I want to watch. That means I can use a cheaper battery and a cheaper solar panel and if I want more electricity because the children want to watch a DVD and I want to watch TV I just buy another small battery and another small solar panel so what I am doing is workable.... And not too expensive.
------------------------------------------------------------
HOUSE LIGHTS
Here is an example of needing a larger battery. Say your house is wired for 230 volt electric lights and you want to convert from mains electricity to solar electricity. First add up the wattage of all the lights in your house.
Bedroom one ....................100 watt light
Bedroom two ......................40 watt light
Bedroom three ....................40 watt light
Bathroom ............................40 watt light
Toilet ..................................40 watt light
Lounge ..............................100 watt light
Kitchen ..............................100 watt light
Dining room .......................100 watt light
Outside lights......................200 watt light
Garage ...............................200 watt light
Total wattage 960 watts.
For 12 volts this is 80 amps. if you leave all your house and garage lights on from 6:00pm to midnight when everyone has gone to bed that is 6 hours so we need a 12 volt battery that can give 80 amps for 6 hours. Plus we make it 7 hours if people get up at night to go to the bathroom.

According to the on line calculator 80 amp/hour battery for 7 hours is 1286 amp/hour rated and approximate cost for deep cycle 1300 amp/hour lead acid battery 45,000 kenyan shillings. plus you need the solar panel on the roof large enough to charge the battery plus you need 1000 watt 12 volt to 230volt voltage inverter which is approximately 30,000 Kenyan shillings. These prices I am converting from New Zealand dollars to Kenyan Shillings at the rate 50 Kenyan shillings to one NZ dollar so your buying price in Kenya may be more or less depending on the currency conversion rate.. . Plus you will also need an electrician to come to your house and give access to the light wiring so you can plug into the inverter and run your lights off the battery at night. All up, well over 100,000 kenyan shillings .

You can make the costs of the battery and the inverter a lot less by reducing the wattage of all your house lights... or by using modern LED light bulbs which only use half the energy of ordinary house lights. Unfortunately at present led lights are quite expensive..
But there is a much better way. You can use solar light units which are charged up by sunshine each day so you dont need a solar panel or a battery or an inverter you just put your solar lights in the window each day to be recharged by sunshine. This is a very good idea. My torch which I only use once or twice at night lasts for over a month before it needs to go in the window for charging. The larger lights if it has a solar panel on top I put that one in the window to charge the battery inside the light and I have two table lights I charge two small battery packs and plug each it into a light at night. Far less cost to buy and more flexible. The batteries I use are AA size and NIMH type rechargable batteries.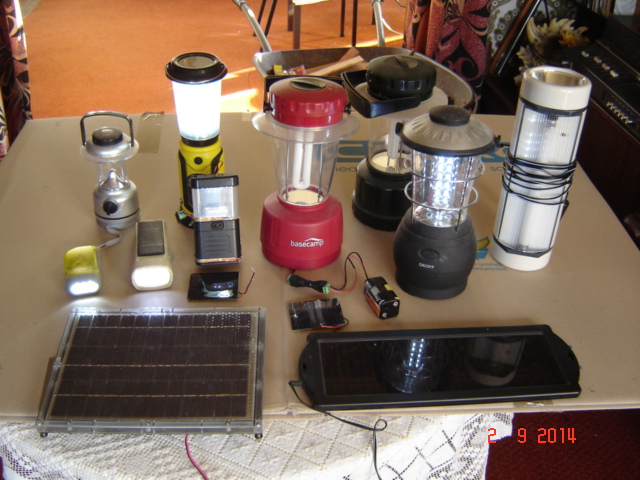 ==============================================
--------------------------------------------------------------------------------------------
HOT WATER INSTEAD OF A BATTERY
Many companies around the world are studying very hard the possibilities of using hot water as the energy store instead of a battery.
Why
Because the cost of a 1000 liter hot water container is much less than a deep cycle solar battery.. You can flatten the hot water battery and it is not damaged. You do that to an expensive deep cycle battery and it may recover. Or it may not.
Hot water does not care if it is hot or cold. It is far far easier to heat water using sunshine than it is to use a solar panel and charge a battery. A battery needs carefull handling or it will be damaged.. If it is discharged too much it is likely to be damaged. If it is overcharged it is likely to be damaged. You only get back about half the energy you put into a battery. There are many things to go wrong with a battery.. the life of a lead acid battery is between 3 and 5 years. Maybe up to 10-15 years for an expensive deep cycle battery.
The only good thing about a battery it is much smaller than a 1000 liter of hot water. But you say to yourself how much charge is in that battery. Yes you can buy charge indicator meters for batteries but they are expensive.. To tell if there is any energy charge in your 1000 liters of hot water all you have to do is measure the water temperature.. there is no problem with overcharging there is no problem with using the hot water until it is cold. Nothing gets damaged. Just reheat the same water next day. One thing for sure a well made 1000 liter water storage can easily last a lifetime. In that time you will probably have to buy 5 or 10 or more batteries.. The technology to make electricity from hot water is not here yet but is not far away..
======================================
USING A SUPER CAPACITOR TO POWER A BUS OR A TRAM OR A SOLAR ELECTRICITY SYSTEM
In many countries in the world buses are used for transporting large numbers of people to and from work and shoppers going to town to buy goods.. These buses use a diesel powered engine or they might be the trolley bus type which uses electric motor and overhead electric wires. Trams are also very commonly used in cities for fast people transport and they also have electric motor and overhead wires.. Fitting the electric overhead wires is very expensive and not good to look at.

Some countries are using a new product called a super capacitor which can hold a charge of electricity to run their electric trams or electric buses from one stop to the next stop and there the supercapacitor can be very quickly charged up again in 30 seconds to power the tram or bus to the next stop.. There is no need for any overhead wires and the electric tram or bus can go much longer routes.

This is very interesting news for buses and trams and also for solar electricity where these new super capacitors may be able to eliminate lead acid batteries. You can buy super capacitors now but they are far more expensive than a battery but soon their prices will drop lower.
=================================

MAKING ELECTRICITY FOR A VILLAGE
There are several ways to do this. If you are in an area which has 230 volt electricity distribution is is possible to have a number of solar panels which feed into the electrical grid and receive a credit and may have a number of registered owners who can receive electricity on the account. in the past many electricity suppliers offered high prices per kw/h comparable to the retail price which made this type of group supply very satisfactory but unfortunately most electricity suppliers have reduced their feed in rates to less that a tenth of retail electricity prices so that system is not suitable anymore.
Another way is to have a number of solar panels producing electricity and charging each customers battery. The customer goes and collects their battery, uses it at night and returns the battery to the central location to be recharged again.. This method saves having wires and poles..It is a service that someone provides and charges your battery. You can own your own battery or rent a battery when you want to watch tv. It is like people who charge your cell phone.
Probably the best way is to have a number of solar panels producing electricity during the day and saved in batteries for night. Convert the battery voltage to 230 volt ac then can be distributed to each household on wires on poles. Needs a way for users to pay the correct amount for the electricity they have used.. This way each small village has its own electricity.
=================================================
USING SOLAR ELECTRICITY FOR COOKING, USING A MICROWAVE OVEN OR A GRILL OR A TOASTER
Yes you can do it. A lot of people all over the world use solar energy for their whole house. For cooking, lighting, solar electricity and everything. Many people live off the electricity grid. They are far away from the wired electricity system they have to survive using solar energy and wood fires or charcoal.
You need at least 5000 watt solar panel, 5000 watt deep cycle battery, locked outside battery room, full protection equipment for the battery, voltage inverter to 230 volt AC for the cooking equipment.. all of this is very expensive especially the solar panels but people do it. They have their whole roof covered in solar panels plus a battery room for the batteries and usually the house is wired with the normal 230 volt mains wiring and using 230 volt inverterters.
At this stage of developement solar electricity is very expensive for cooking...Cooking food uses a great deal of energy especially if you have a large family.. Can be done faster and much cheaper with an outside fitted gas bottle and a safety approved kitchen fitted gas cooker and solar energy for everything else.
Most text and pictures on this web site are original material and belong to me
Richard Williams remp@ps.gen.nz
or their respective owners. Everyone should use proper care and a suitable fuse when dealing with lead acid batteries and electrical equipment. Any house wiring for 230 volt mains power should be done by a registered electrician..

Richard Williams
remp@ps.gen.nz