The Cobourne Reserve______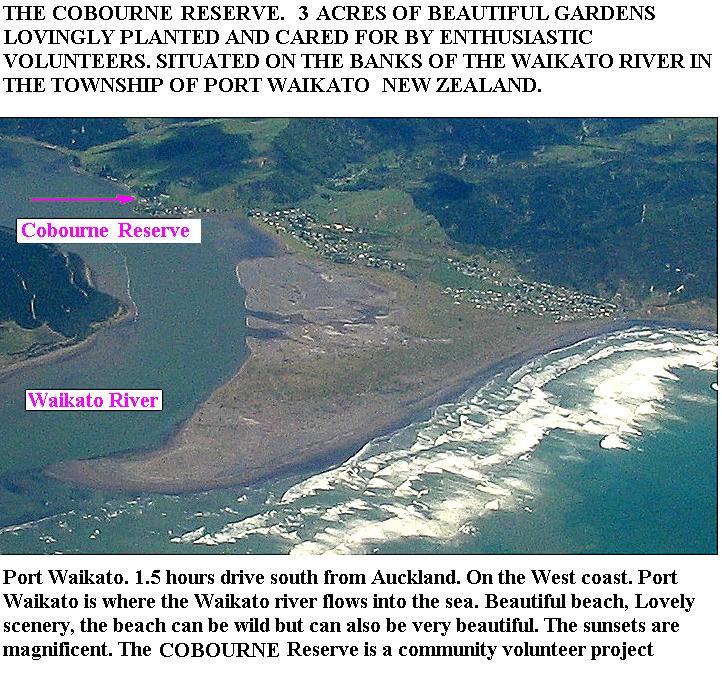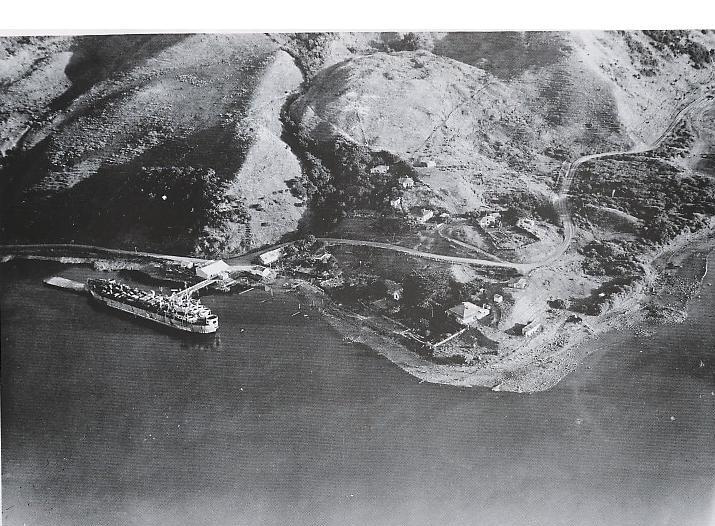 The ship at the original Port Waikato wharf is The "LST 283" renamed '"Rawhiti III" March 1948 refer page 25 the book 'Caesar Roose grand old man of the river' as told to Margaret Stuart by Jeanette Thomas so it is likely the date of the photo is about 1948.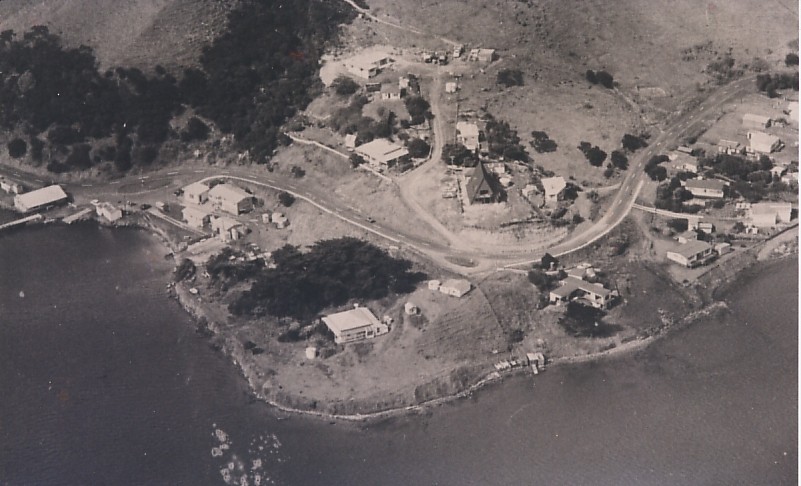 Photo 1984
Early views of the wharf area and land to be donated for the Cobourne Reserve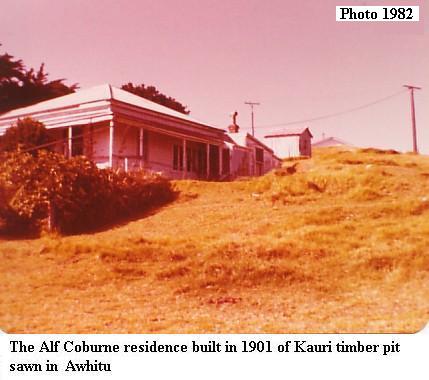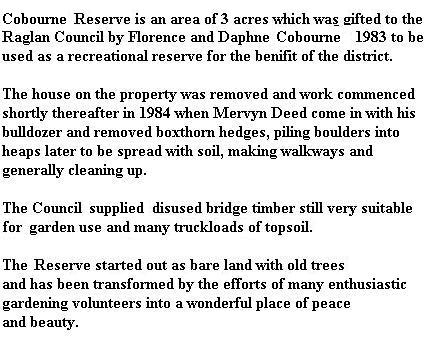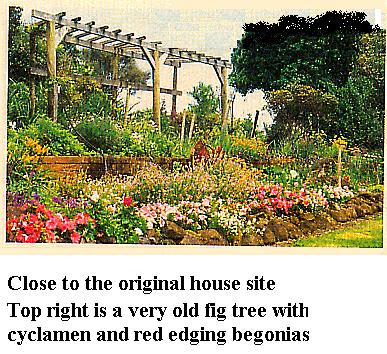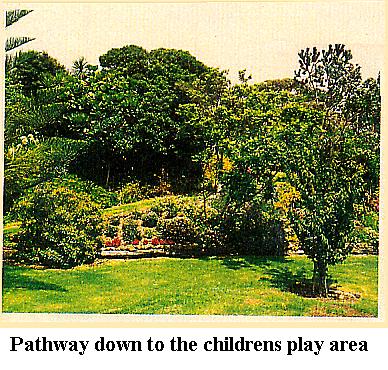 ...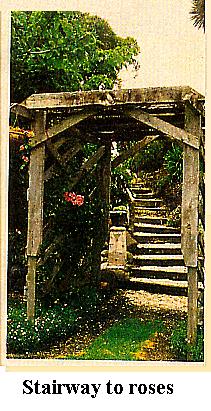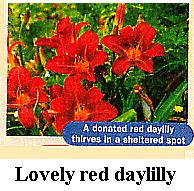 ..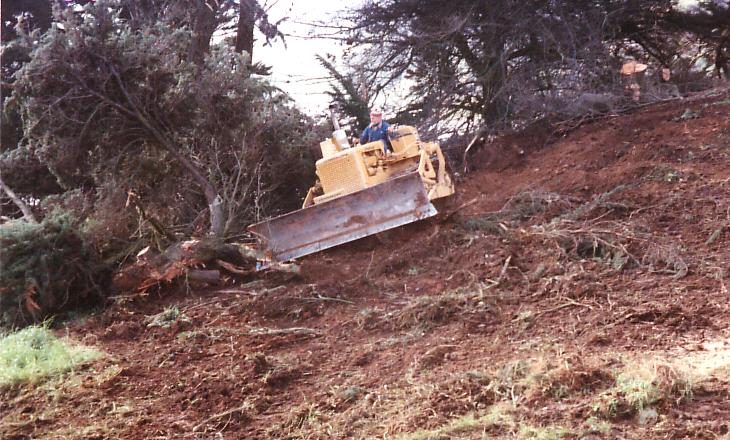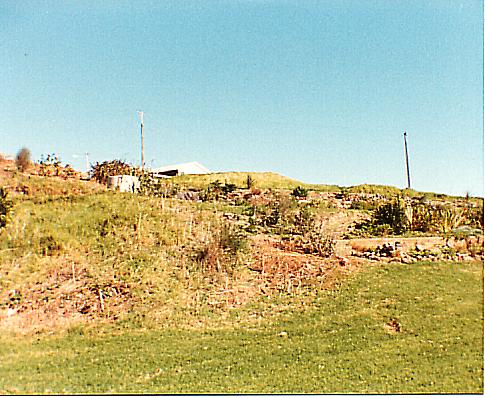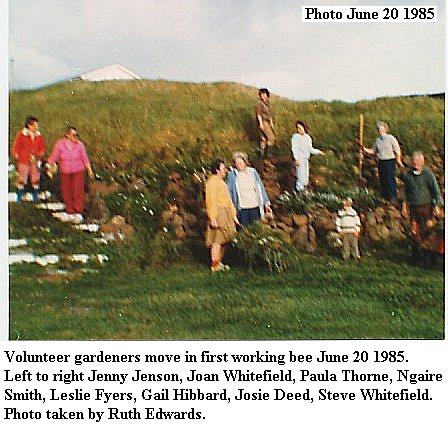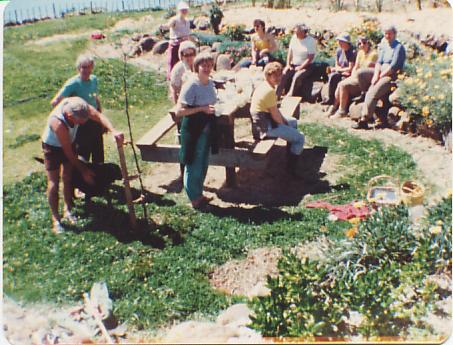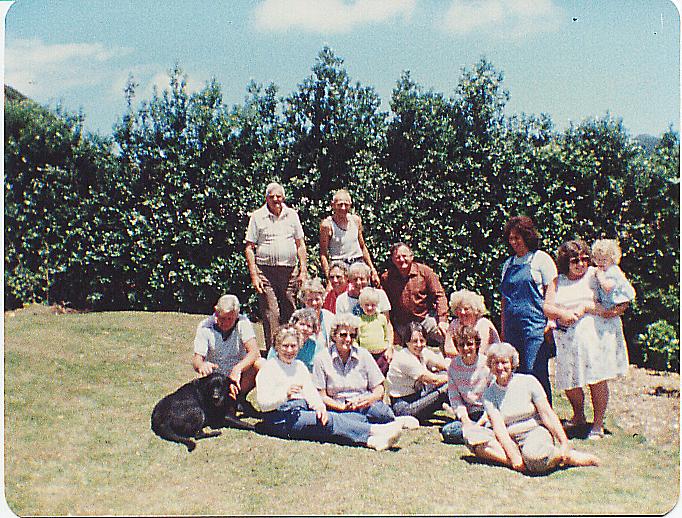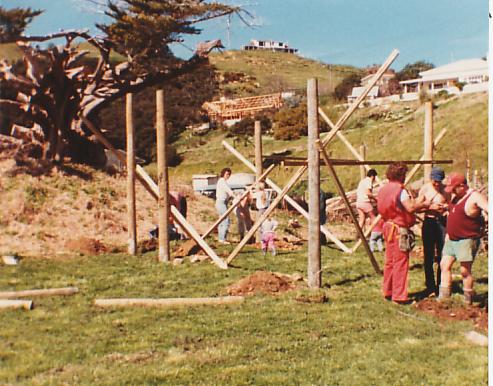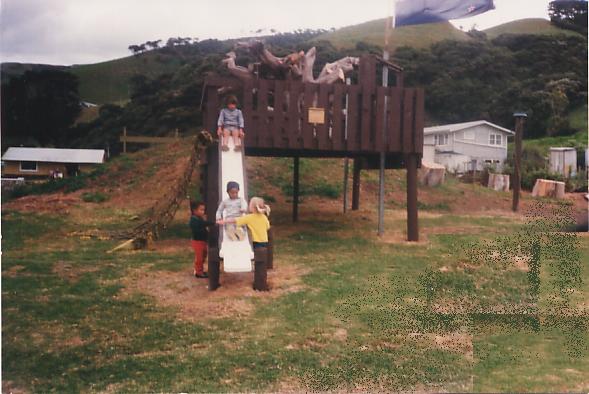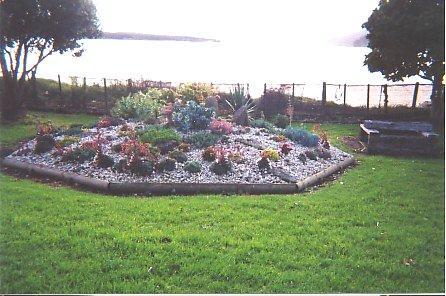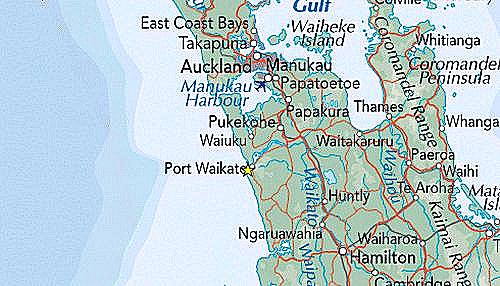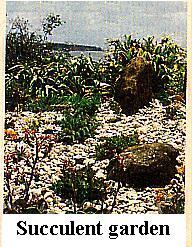 ...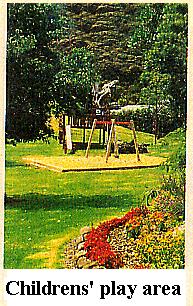 ...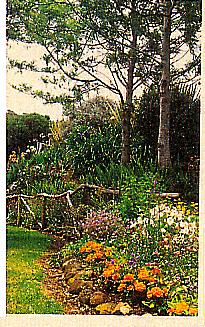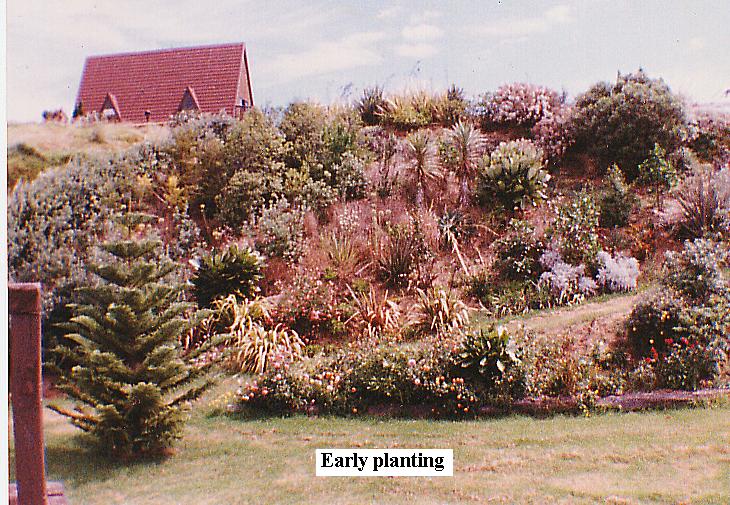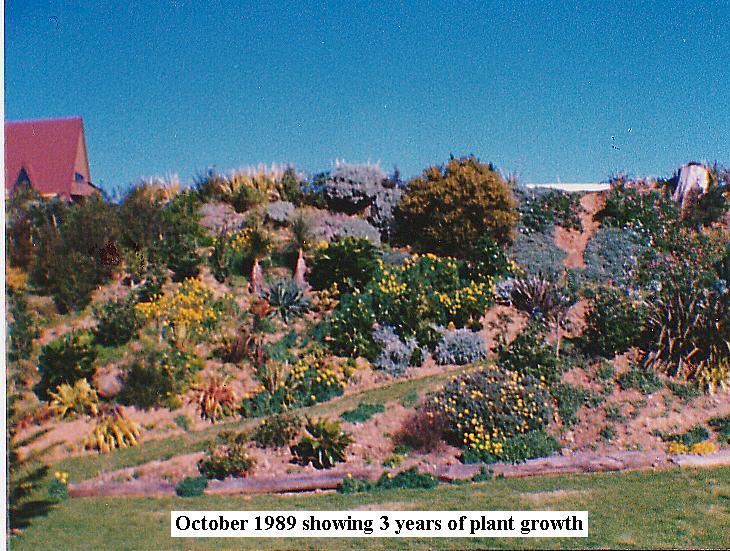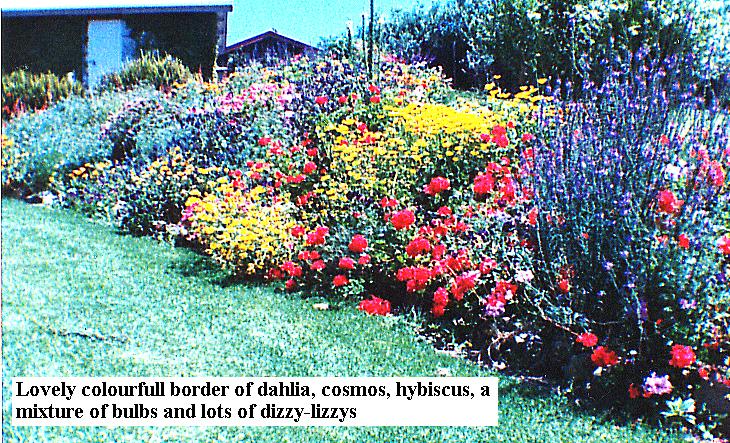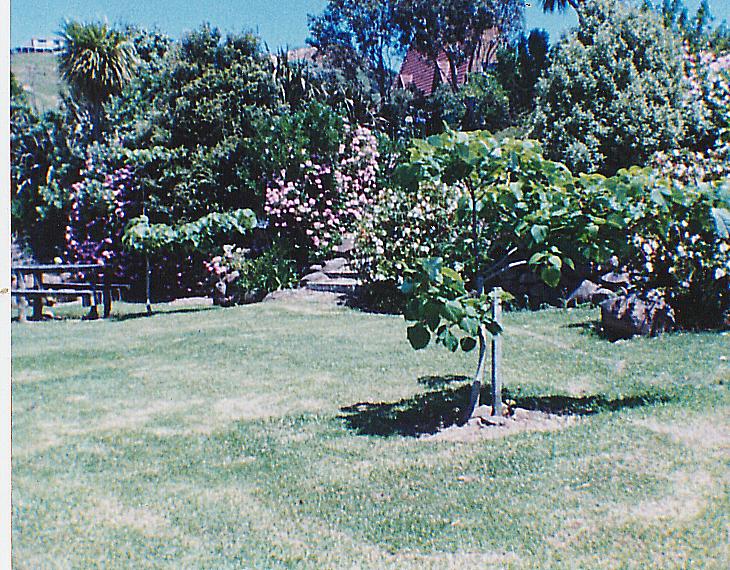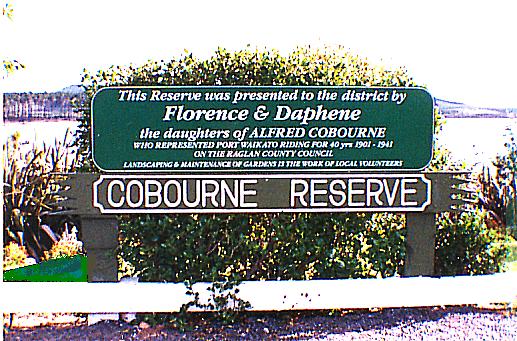 THE BEGINNING OF COBOURNE RESERVE. PORT WAIKATO.
by Ruth Edwards. 1997.
Cobourne Reserve is an area of 3 acres which in 1983 was gifted to the Raglan Council by the Misses Florence and Daphne Cobourne to be used as a Recreational Reserve for the benefit of the district. Alfred Cobourne their father had been the Riding Member for Port Waikato on the Council for 40 years, from 1901 to 1941 attending meetings in Ngaruawahia. I can remember him a well built man with a white trimmed beard riding an upstanding chestnut horse. They didn't own a car until the 1930's and Daphne was the driver. There were 2 houses on the property, the Cobourne homestead was in livable order but the Historical Society didn't deem it to be of a high enough standard to conserve so it was pulled down. It was situated on the flat area just below the first lot of steps now a nice sheltered picnic area. It was built in 1900 the timber being shipped across the river after being pit-sawn on the Awhitu peninsular. The other building was Mr Ted Spargo's residence, a brother in law of Alf Cobourne situated on the lower level approximately where the high mound is now. It had been well vandalised and was not worth preserving.
Another building used as Officers Quarters,known as "The Barracks or the Cottages" situated in Putakaka Bay adjacent to the Morton bay fig trees,(themselves protected trees), was to have been shifted to Cobourne Reserve and possibly used as an information centre, library or such. It was to be preserved because of its type of architecture. There was a lot of controversy over the cost and it mysteriously burnt down the night before it was to be shifted. A great loss to the community. Its architecture was entirely different from todays buildings and would have been a great asset and a piece of history.
In 1984 Mervyn Deed came in with his Bulldozer and removed box thorn hedges. piling
boulders into heaps later to be spread with soil, making walkways and generally cleaning up. The microcapa trees on the section were found to be decayed so were removed, some stumps'are still visible. The area at the top of the Reserve was bulldozed level. The Raglan Council brought old disused bridge timber and 14 loads of top soil and it was formed into a garden in the centre. The area is now a lovely garden surrounded by a car park capable of holding at least 20 cars. By this time Raglan Council decided they didn't have the means to continue and were going to abandon the gardens.
In June 1985 a group of local residents decided to continue the task of cleaning the rubbish and setting it up as a pleasurable area for the public to enjoy. Under Josie's watchful guidance what had been the garage was encased in Pungas collected from a local farm where the farmer wanted them removed to form a farm track. They took two full days to collect in the volunteers local trucks and tractors
2. A second-hand roller door was erected and painted, roof repaired and painted, new spouting and down-pipe fitted into the old tank for our water supply. A local resident painted a Maori Motif on the front barge board. This whare we now use as our tool and storage shed and is an area where we can shelter from the weather if necessary and gather after gardening for our cuppa brought in thermoses by gardeners. A lovely fellowship exists. A lean-to has since been added to the building and this serves as a plant nursery where Dorothy is in her element, setting seeds and propogating new plants, saving the council the cost of buying them. A picket fence was made out of donated timber and painted white, top soil brought in to form a rose bed for which we raised money to buy roses to plant,between Whare and water tank. This is now a focal point much admired when the roses are blooming. A post and rail fence was erected and painted white between the car park and top of the Reserve. A sign "COBOURNE RESERVE" carved and painted locally was erected on this. It has since had a sign erected beside it to say,"PLEASE DO NOT STEAL THE PLANTS IN THIS RESERVE That is self explanatory. We went in convoy in our own vehicles to dig native flax's from the river bank to plant around the bank to stop erosion. It was not all hard work, we thoroughly enjoyed the comradeship and made it an enjoyable experience.
The Kaikuhia grass was then sprayed ready to plant trees. 250 Pittosporums were planted, one side and partly along beach frontage, this was to give shelter to childrens play area and to give shelter to our tree planting. Pohutukawas were planted right along beach frontage. We then commenced our native tree planting, firstly on part of the hill. For our manure we went in convoy again in our own vehicles to local farms and bagged up 61 bags of sheep manure. We also used horse(stable)manure brought from Pukekohe. With our trailers we collected loads of ensilage from a Te Kohanga farm. Raglan Council brought us more bridge timber which we used around the steep track at the bottom of what we call "big Bank", to hold the soil. Local residents and the Council were asked for donations of shrubs or money. This enabled us to get right into planting in a big way. There were 9 seven-ton truck loads of bark brought in. We news-papered and barked all of the big bank plus the triangle, it took tons of newspapers and all the bark. More money was raised to buy a spray unit for our group to use on the reserve. We then assisted in Caesar Roose's 100 year celebrations by planting 480 poppy," stock and antirrhinum plants,brought by our own money and we worked on almost a daily basis for 6 months to have the reserve as advanced as possible for this occasion, which attracted over 3000 people both maori and pakeha. The centennial was in honour of Caesar Roose's use of the Waikato river. All supplies for this and surrounding areas came in by his shipping company. We had displays of all Maori culture, welcome singing, hakals, poils, flax weaving and foods,also pakeha displays of sewing on treadle and hand machines, butter making, spinning etc. More bridge timber was broughf in and made into tables and seats.
A play area was then built in memory of Caesar Roose , his daughter Jeanette Thomas donated the timber, some local Mums painted it then the Dads came and erected it into a wonderful play area.
Barracades put up around trees needing shelter were made of poles cut from trees that had floated up on the beaches. More topsoil was brought in to fill in rough areas so we could grass the area ready for mowing. Made a rock garden from local stones brought up from the beach by 4 wheel bike and trailer. The brick wall, part of the homestead area where the old house stood was left in place and now has a lovely colourful garden in front of it.The wisteria, fig trees,and old rose bushes from around the house were also retained. This is an outline of the first 5 years since Cobourne Reserve was first voluntarily taken over by local residents, 1985 - 1990. There has been much thinning out and replacing since then but the same outline still remains.There has been many helping hands over the years, some have moved away, some passed on but there is always a sprinkling of enthusiasts willing to carry on the good work for which we are truly thankful.
Among the many additions since 1990. A Herb garden has been planted and a water supply laid. A sink bench fitted in the whare.
-----------------------------------
This is a list of some of the trees and shrubs planted; N.Z.Pohutukawals planted on foreshores Kauri, Pittosporums(several varieties), Totaras, Puka-Puka, Karaka, Coprosma's, Ake-Ake, Koromiko's, Cabbage Tree(Cordyline), Flax, Pin Oaks, Golden Elm, Copper Beach, Elm, Norfolk Pine, Red Robbin,Guava, Lucadendrons, Agapantha, Gum Trees, Grivillias.