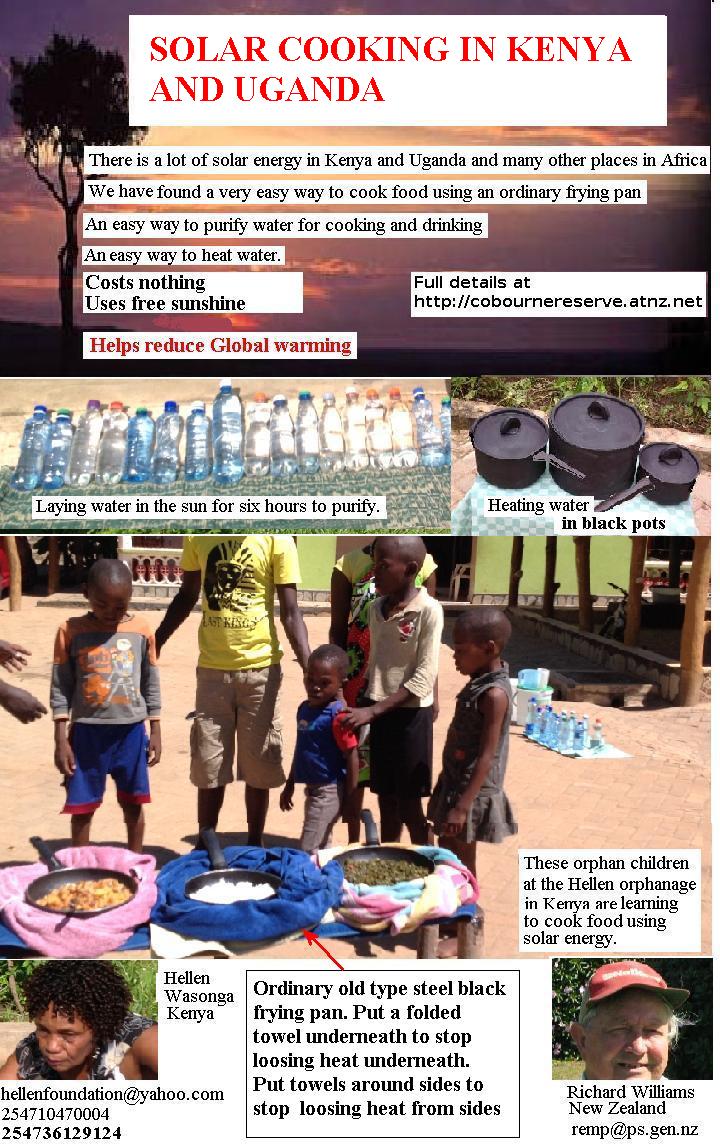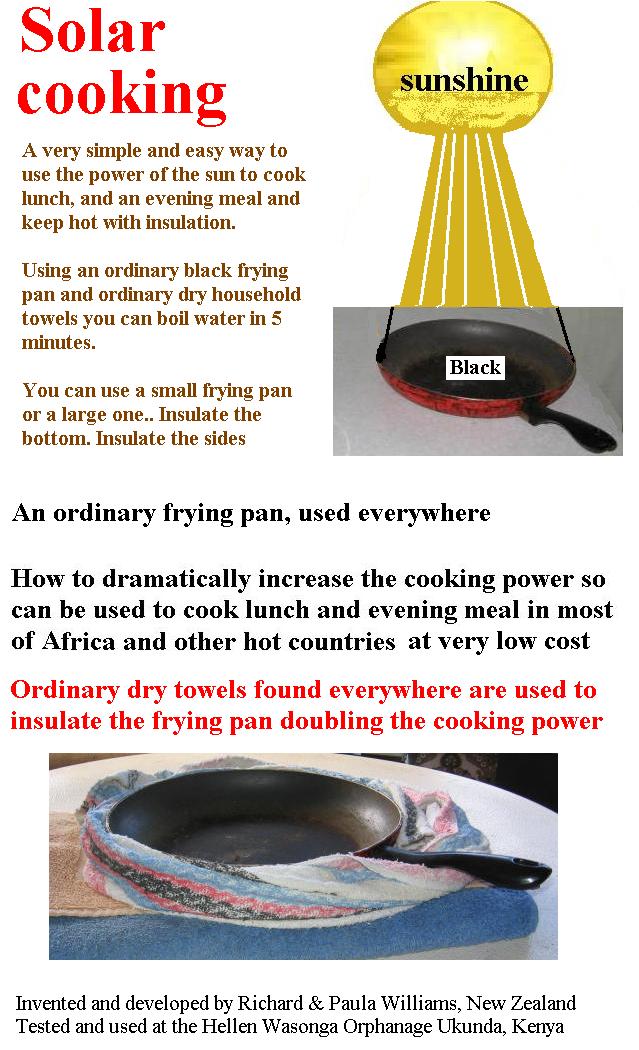 We do not sell any goods. This is information about using solar energy. You can cook your food using solar energy free. There is nothing to buy. You only need a black frying pan and ordinary towels to hold in the heat. Everyone has in their own homes..
Our solar cooking method insulates the bottom and sides of the frying pan and uses energy from the sun but no electricity no gas no firewood no parafin or kerosene. No harmful smoke. Helps reduce global warming. And if by chance it does rain or clouds are blocking the sun you can still use the frying pan with a fire.

You can use this solar cooking method in most of Africa Most of the Middle east. Most of Indonesia. Most of Malaysia. Many parts of Australia. Most of India. Nearly all places between the tropic of capricorn and the tropic of cancer with a temperature over 28 degrees centigrade are good for solar cooking..

Our solar cooking method is very good because most other ways using solar energy the food or the reflector have to be moved to be in focus with the sun but our method you do not need to move the frying pan it collects heat with no movement which is very good.

In many places most of the suitable firewood has already been used and there is none left but you can still use solar cooking because you do not need firewood. If the solar cooking is too hot you can easily adjust the cooking heat by removing some insulation from the sides of the frying pan.

You have to be careful and teach children the insulated frying pan gets very hot and needs supervision by an adult or an older child and the cooking equipment is safer to be put in the shade when not being used because children like to touch things and also if the empty insulated frying pan is left out in the hot sun it can get so hot the insulation could possibly catch on fire so cover it over or put in the shade.
MAIN POINTS OF SOLAR COOKING
(1 ) Cost a family nothing. Every family has frying pan.
(2 ) Use dry towels to insulate the frying pan.
(3 ) Frying pan does not need turned toward the sun
(4 ) Fast cooking time
(5 ) Can use larger frying pan or roasting dish
(6 ) Can cook lunch and also evening meal
(7 ) Insulate the evening meal to keep warm until evening
(8 ) Can cook all food. Meat, chicken, fish, vegetables, rice.
(9 ) Very simple even school children or orphans can use
(10) Because is very hot needs supervision for children.
(11) Can be used in any hot country.
(12) Does not use firewood or electricity or gas or parafin or kerosene
(13) Teaches children how to use solar cooking
(14) Adjustable heat range. Remove/add side insulation
(15) Can heat water for tea or coffee or washing or cleaning
(16) Helps reduce global warming
OUR SOLAR COOKING METHOD ONLY USES THE HEAT FROM THE SUN. WE DO NOT USE ELECTRICITY OR GAS OR FIREWOOD . OUR SOLAR COOKING METHOD DOES NOT PRODUCE ANY SMOKE. BY ONLY USING THE HEAT FROM THE SUN AND SUITABLE FOR COOKING FOR ABOUT ONE QUARTER OF THE WORLD'S POPULATION WE ARE HELPING TO REDUCE GLOBAL WARMING.

SOLAR COOKING MENU
1) VEGETABLES , MCHICHA , SPINACH
2) MEAT STEAK BBQ FOOD
3) RICE, FISH
4) COOKED BANANAS
5) GREEN PEAS
6) GARDEN PEAS
7) BOILS IRISH POTATOES STEWS
8) BAKING BREAD /CAKE
9) GRATED CABBAGE AND GREEN VEGETABLES
10) POTATOES CARROTS PEAS BEANS
11) BURGERS AND FRIES
12) ALL KINDS OF MIXED VEGETABLES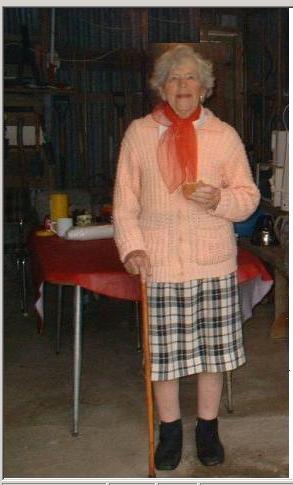 ......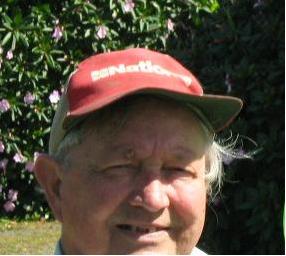 Paula New Zealand.........................................Richard... New Zealand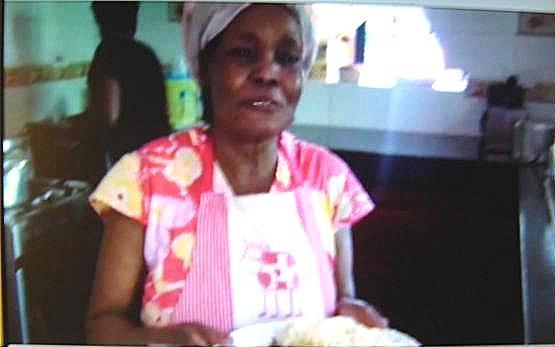 Testing at the Hellen Foundation Ukunda-Mombasa Kenya by Hellen Wasonga with her orphans
Hellen Wasonga has spent many hours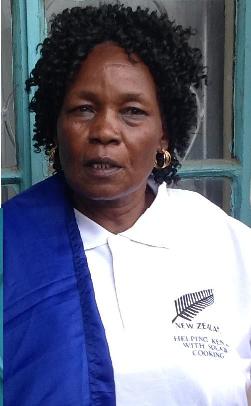 teaching her orphans how to use the solar cooking methods. She has taught them safety when dealing with hot food. Now her children have learned the power of sunshine. She has been praised by the Orphanage Govenors in Kenya for giving her children a very useful skill how to cook food using sunshine and a skill to take with them when they leave the orphanage. In addition she has visited many churches and meetings and demonstrated and shown people how to cook food using solar energy and how to use solar energy to purify water and to heat water for washing and cleaning and other uses around the home. Hellen works very hard to promote solar cooking all the time so that other people can benefit from solar cooking..
==============================================================================

A very important fact... A piece of white metal does not get hot in the sun. It might get slightly warm.
Try it out..

A piece of black metal in the sun gets very hot. We show how to double the heat so you can cook food much faster.
THE INSIDE OF THE FRYING PAN SHOULD BE BLACK WITH NOT MUCH OF THE FACTORY BLACK WORN OFF.. IF IT IS VERY BLACK ALL OVER IT WILL GET VERY HOT IN THE SUN.
IF THE INSIDE OF THE PAN IS NOT BLACK DO NOT PAINT THE INSIDE WITH PAINT. PAINT IS NOT SAFE TO BE USED WHERE FOOD WILL BE COOKED. SOME PAINT CONTAINS LEAD WHICH IS POISON. DO NOT PAINT THE INSIDE OF THE PAN.... FIND A BETTER PAN THAT IS BLACK ON THE INSIDE.
HERE WE ARE SHOWING HOW TO GREATLY INCREASE THE COOKING POWER USING DRY HOUSEHOLD TOWELS TO INSULATE THE FRYING PAN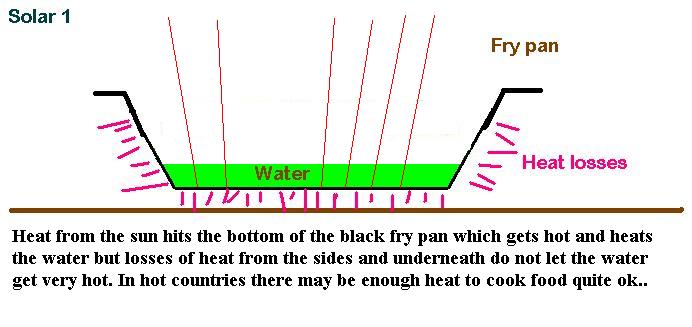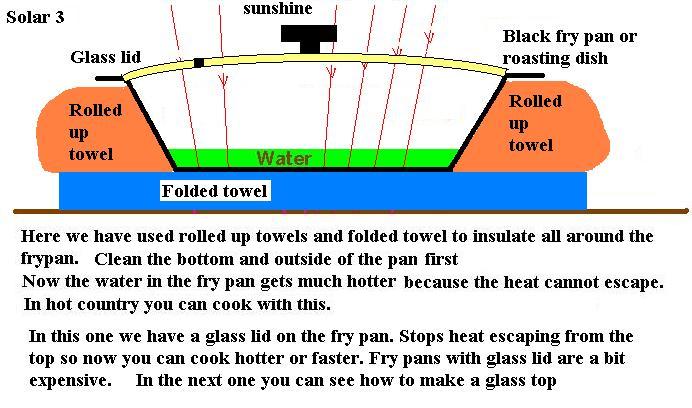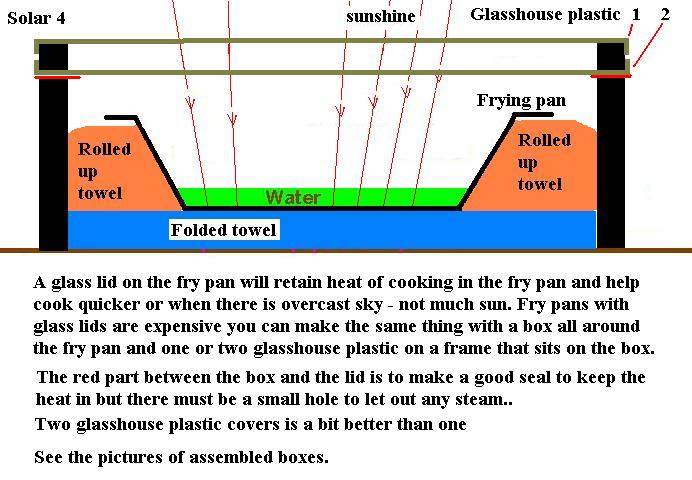 A good size for the box is 17 inches x 20 inches x 6 inches high plus 1 inch for the lid frame
HERE IS YOUR FRYING PAN GETTING READY TO GO OUT IN THE SUN AND COOK FOOD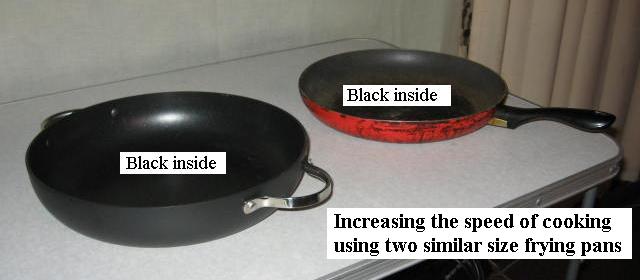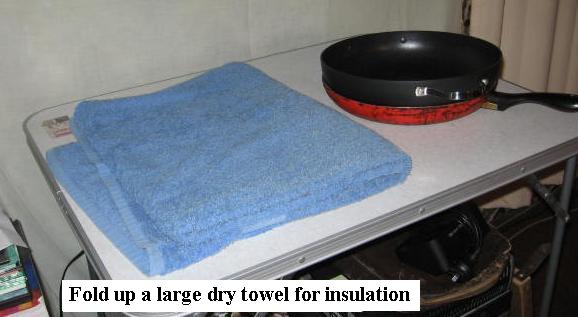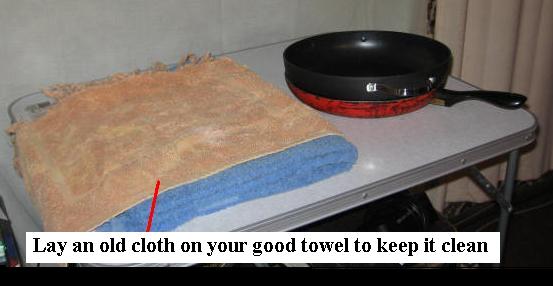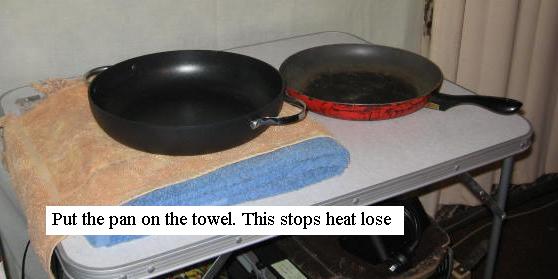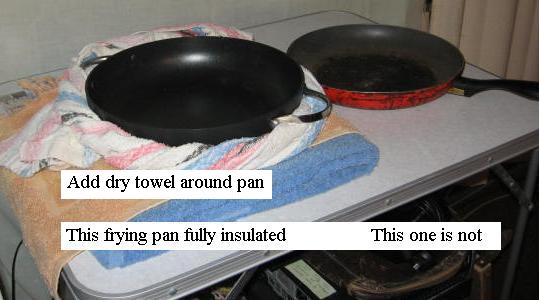 THE PAN IS INSULATED. PUT IT OUT IN THE SUN. IT WILL GET SO HOT YOU WILL NEED A CLOTH TO HOLD THE HANDLE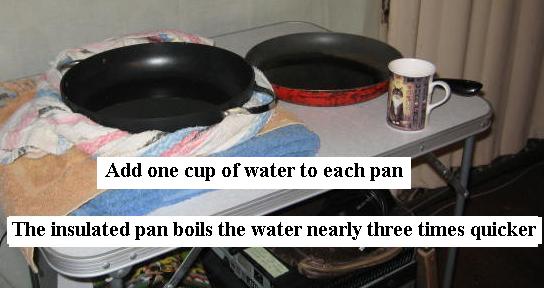 BECAUSE YOU CAN COOK LUNCH QUICKLY IT IS ALSO POSSIBLE TO COOK THE EVENING MEAL AND PUT IN AN INSULATED BOX TO KEEP HOT UNTIL EVENING.
IF YOU HAVE A LOT OF PEOPLE AND CHILDREN TO COOK FOR,, USE A LARGE BLACK FRYING PAN OR A LARGE BLACK ROASTING DISH BECAUSE A LARGER DISH WILL COLLECT MORE HEAT FROM THE SUN AND GET VERY HOT BUT IT WILL ALSO COOL DOWN QUICKLY SO DONT FORGET THE FOLDED DRY TOWEL UNDERNEATH AND THE ROLLED UP DRY TOWELS AROUND THE SIDES TO STOP THE HEAT FROM ESCAPING.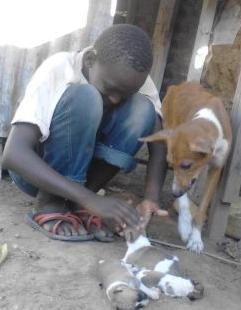 ==========================================================================
WATER TEMPERATURE-
#3..... FOR SAFE AND RELIABLE FOOD HYGIENE IT IS ESSENTIAL TO USE GOOD QUALITY WATER AND TO BRING THE WATER UP TO BOILING FOR AT LEAST 5 MINUTES. .
------------------------------------------------------------------------------------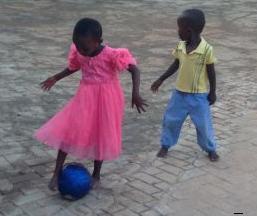 WATER QUALITY
#4..... Dirty or impure water can give very serious disease
(1) Water should be clear. If it is dirty pass the water through a sand filter
(2) Water cleaned in sand filter may look clean but can still have very serious disease bacteria
(3) Water can be made pure enough to drink by using bleach
(4) Water can be made pure enough to drink by using sunshine

SAFE DRINKING WATER USING A FEW DROPS OF BLEACH
'Center for Disease Control' instructions for safe drinking water with bleach:
#5..... From the CDC, Centers for Disease Control, "If you don't have clean, safe, bottled water and if boiling is not possible, you often can make water safer to drink by using a disinfectant, such as unscented household chlorine bleach"
Add 1/8 teaspoon (or 8 drops; about 0.625 milliliters) of unscented liquid household chlorine (5–6%) bleach for each gallon of clear water (or 2 drops of bleach for each liter or each quart of clear water).
Add 1/4 teaspoon (or 16 drops; about 1.50 milliliters) of bleach for each gallon of cloudy water (or 4 drops of bleach for each liter or each quart of cloudy water).
Stir the mixture well.
Let it stand for 30 minutes or longer before you use it.
Store the disinfected water in clean, disinfected containers with tight covers.
=================================
SAFE DRINKING WATER USING SUNSHINE FOR 6 HOURS


UV-A rays from the sun, (Ultraviolet-A, longwave, 315-400 nm), will terminate harmful bacteria, parasites, and viruses in water, given enough sun exposure.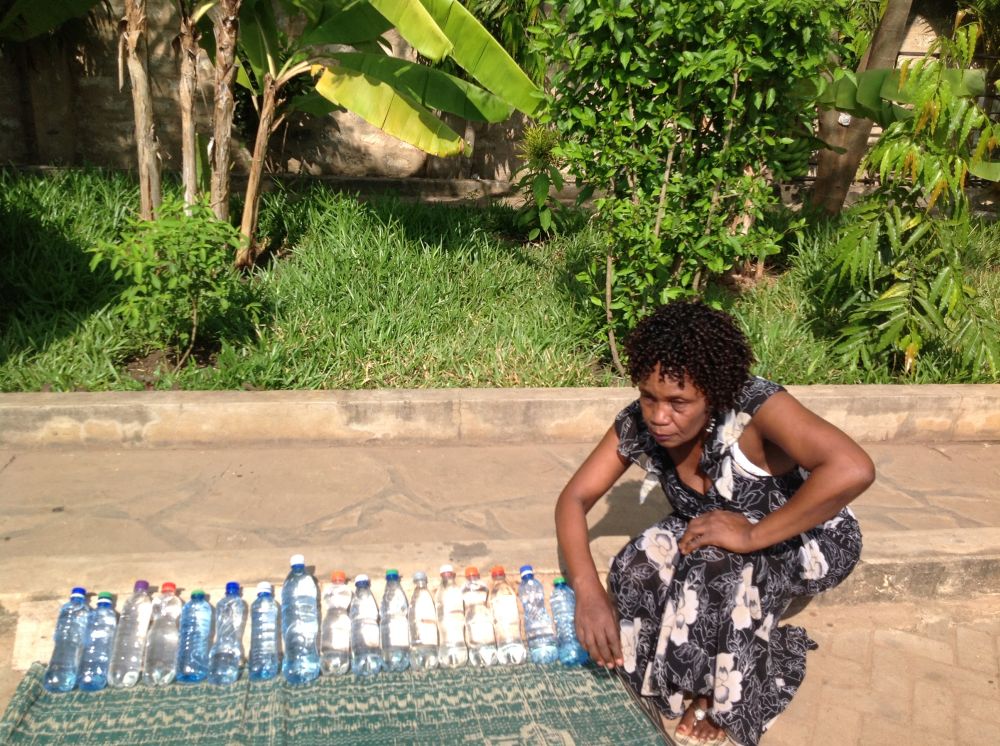 #6..... Hellen at the Hellen Foundation putting out clear plastic 2 liter bottles filled with water, put on the roof or laid out in the sun for 6 hours will make the water safe to drink.. For faster operation, place on a corrugated iron roof facing the sun.. The corrugated iron roof will increase the water temperature. The sun's rays will sterilize the water.
List of germs that are terminated from UV-A sunlight exposure at 6 hours
Bacteria – Escherichia coli
Bacteria – Vibrio cholera
Bacteria – Salmonella
Bacteria – Shigella flexneri
Bacteria – Campylobacter jejuni
Bacteria – Yersinia enterocolitica
Virus – Rotavirus
Parasites – Giardia
Parasites – Cryptosporidium (needs 10 hours exposure)
---------------------------------------------------------------------
LEGIONNAIRES DISEASE
#7
Legionnaires disease bacteria grow in still water at a temperature range of 33 to 50 degrees centigrade. These bacteria are not well known but there have been deaths from storing water in this temperature range such as air conditioning water towers on large buildings and ,, ordinary domestic hot water cylinders and in many countries the water temperature in the hot water cylinder must be raised by solar energy or electric heating elements once per day to 60 degrees centigrade.. LEGIONNAIRES DISEASE should be regarded as a very serious health problem..
Water in this luke-warm temperature range is often obtained by putting a black jerry can full of water out in the sun. The warm water is then used for dish washing purposes.. Legionnaires disease bacteria can grow inside the jerry can water and should be destroyed
Common dish washing liquid kills Legionnaires disease bacteria
Raising the water temperature to 60 degrees centigrade kills Legionnaires disease bacteria
===================================================

NEW WATER FILTER PAPER ..... AUGUST 2015
THERE IS SOME INFORMATION ON THE BBC TELEVISION AND RADIO REGARDING A NEW TYPE OF FILTER PAPER WHICH IS SAID TO REMOVE NEARLY EVERY KNOWN BACTERIA FROM CONTAMINATED WATER. THIS IS A FILTER PAPER. IT IS SAID TO BE EXTREMELY EFFECTIVE AND VERY CHEAP. THE TV REPORTING SHOWS A BOOK OF FILTER PAPERS, SIMILAR SIZE AS A PHOTO ALBUM, FOR ONE PERSON'S WATER AND WILL LAST ABOUT FOUR YEARS. SO FAR NO INDICATION OF COST.. BBC television
===================================================


This is a simple hot box four sides plus a top which has one or two glasshouse plastic material to make the cooking fry pan or roasting dish hotter and cook faster

A variety of cooking pans some square some round. As long as the inside bottom of the pan is black they will heat the water and cook the food.



=================================
NOTES REGARDING HOT WATER AND COOKING FROM SUNSHINE
#8..... For one or two meals using the ordinary kitchen fry pans is good most households have at least one or two fry pans.

If you have a big family,, instead of using the fry pans you could use a roasting pan.
To heat water use an old cooking pot with a lid. Put the lid on then paint the pot and lid with black paint. Do not paint the bottom of the pot.. Do not paint the handle. Fill the pot with water, place in the sun on a folded up towel. In about an hour the water will be hot.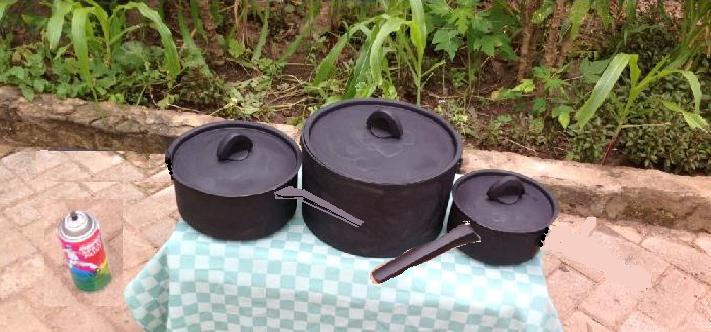 Using clean pots this is a hygenic way to heat water and is quite fast. For safety put these pots on a folded towel on the ground or on a small table in a safe area so children or anyone cannot accidentally tip over a pot of hot water. Keep the pot handles inside not sticking out where can be knocked over.. A hot water burn goes in deep and the only way to stop it burning is with cold water so have some cold water nearby and a cloth to press on the burn.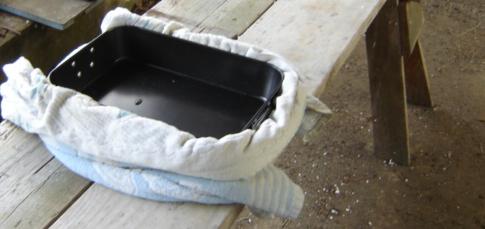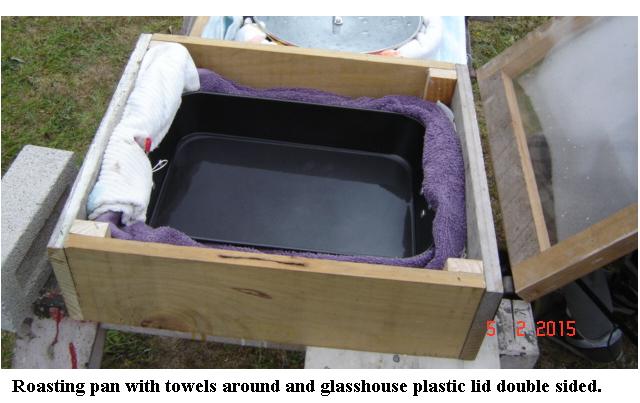 #8.25 BAKING CAKES
Baking cakes needs hot temperatures. Here are pictures of a simple high temperature cooker. It is made from a box cut down and the sides and top opened out and covered with reflecting aluminium foil from the supermarket. Inside the cardboard box is a roasting dish with a black lid and it is sitting on a large dry folded towel and rolled up dry towels around the sides to insulate the roasting dish and stop heat escaping from the bottom and sides of the roasting dish.
The roasting dish catches the suns rays plus extra heat is reflected by the four side mirrors onto the roasting dish. This type of reflecting box is large and hard to store. We are working on a similar unit that has removable mirrors making it easier to store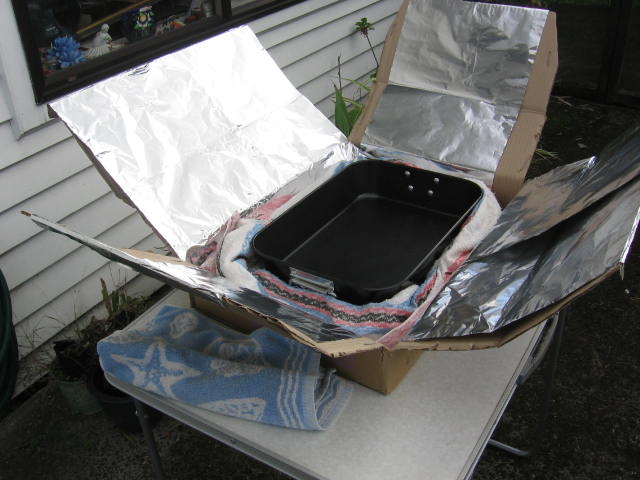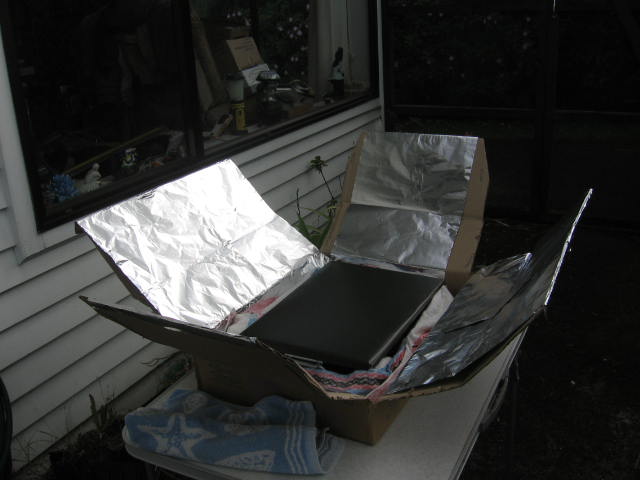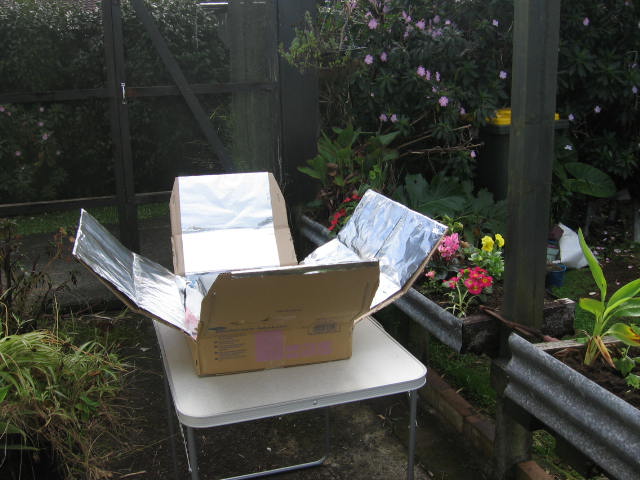 This high temperature cooker can also be used to cook lunch
#8.3...HERE ARE PICTURES FROM THE HELLEN FOUNDATION ORPHANAGE AT UKUNDA, NEAR MOMBASA ,KENYA..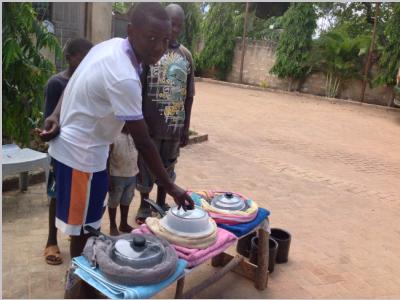 .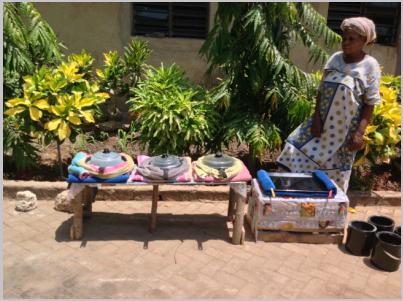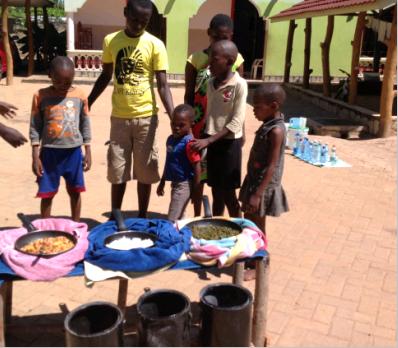 .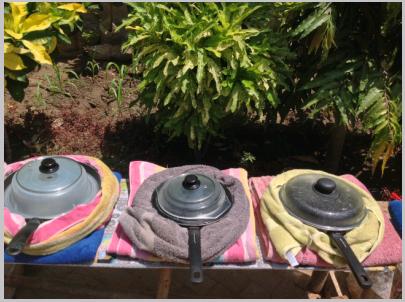 #8.4...Three pans of food each has a heat resistant glass lid to increase the cooking temperature. In the right hand picture shows also a roasting dish for cooking more food and on the ground shows the black cans that heat water very hot.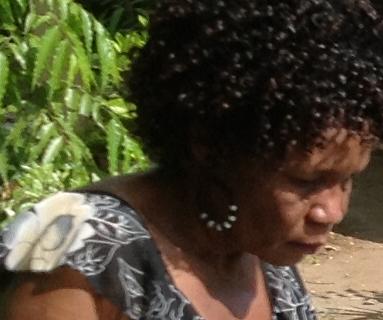 Hellen Wasonga, owner of the Hellen orphanage at Ukunda Mombasa South coast is extremely pleased with this way of cooking food using sunshine. It costs far less money than electricity or gas. Even small children are learning to cook using sunshine and they all know water softened and purified by 6 hours exposure in the sun tastes very sweet. Her orphans are learning all about cooking food and purifying water by sunshine. When they grow older and leave the orphanage they have something very useful to take with them and teach others..
HELIOSTAT
#9......A heliostat is a very powerful method of using energy from the sun... It uses mirrors to concentrate sunshine onto a small spot producing a lot of heat on the spot which is then suitable for cooking a lot of food and is used all around the world to generate electricity.. The mirrors can be moved by hand or an electric motor and on the larger systems, the mirror positions are computer controled..
Previously we have been using a single or several frying pans to cook food.....Cooking a lot of meals at once needs a different method. You could have 10 or 20 fry pans cooking all at the same time and that would work but another way is to use one large black cooking pot and heat that. Most of the pot is covered by sand or insulating material and sunlight aimed at one exposed side.. If you use one mirror to direct sunshine onto the black pot it will get hot but not much. If you direct the sunshine from 10 or 20 small mirrors onto the pot it will receive a lot of heat and cook very well.. the trouble with this method the sun moves around the sky so always the mirrors have to be shifted to aim at the cooking pot.. But if you put the mirrors on a movable frame, and line up the mirrors, you only have to move the frame to follow the sun and that can be done by small electric motors and cheap sun trackers..Relatively cheap to do but needs a lot of skill.. The mirrors can be made from cardboard with aluminium foil from the supermarket so is very cheap for the mirrors. Not as good as glass or plastic mirrors. line up on the cooking pot. To get good results you need to use glass 6 x 6 inch mirrors.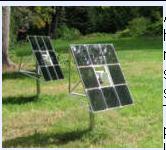 ....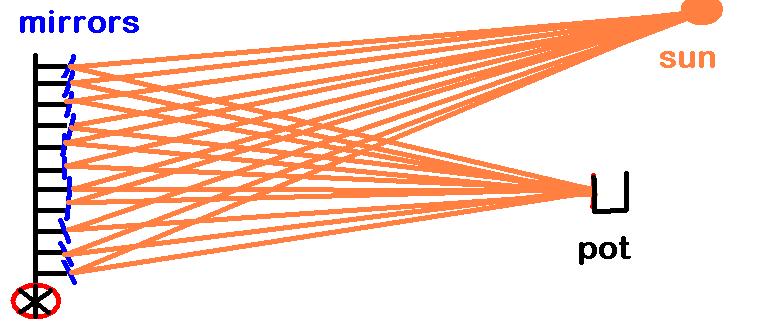 8 mirrors..............................12 mirrors.

#10 ..... For cooking 10 litre of food at once enough for 10 children you need about 72 six inch mirrors all fitted in a compact housing that tracks the sun by hand or fitted with a clockwork or electronic motorised tracking.. To buy this would be expensive but to make it is not so expensive. Start with sun alignment by hand. If we need 72 x 6 inch square mirrors how much area is that. Roughly 6 mirrors x 6 mirrors is a square meter. that is 36 mirrors. we have 72 mirrors so we can capture 2 square meters of sunlight which is about 2000 watts of energy.. We get maybe 10-20 percent of that energy but it is still a lot. So what we are doing is taking the sunlight that falls on 2 square meters of ground and place that energy on a 6 inch square.. You can imagine with 72 mirrors our small 6 inch square is going to get very hot.. And that is what will cook the food..

FOR COOKING QUITE A FEW MEALS CAN WE GET GOOD WATER TEMPERATURE EASILY AND RELIABLY

#12.... By using a chinese glass tube solar collector you can get 100 to 300 litres of boiling water in about 4 hours. These do not need to be always turned to face the sun. They remain stationary. By pumping the boiling water past the food using a double cooker method you can cook a lot of food at once or in several batches.. the boiling water gives up heat to the food but the water goes back to the solar collector for the water to be reused and reheated for next day.. There is only one problem these Chinese solar water heaters are excellent for heating water but are very expensive in Kenya...
Another way .. There are simple solar hot water designs using flat plate hot water collector that can be easily made in Kenya or Uganda using local materials..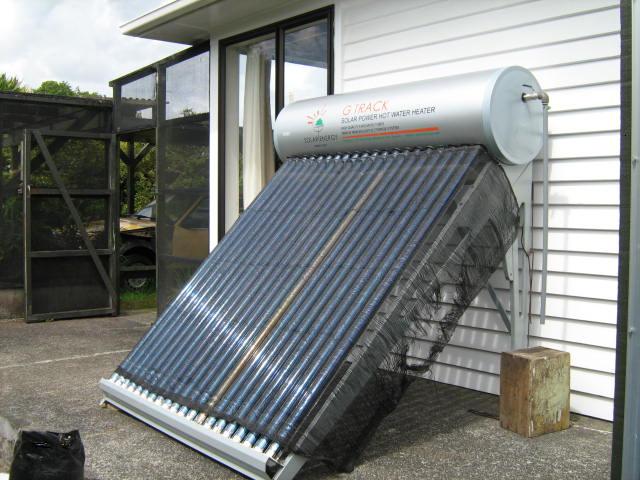 Very good Chinese solar hot water unit. 300 litres of water heated by 20 glass thermo-syphon solar tubes approximate new cost in kenya over 100,000 Kenya shillings. This glass tube unit is set for the same angle everywhere.....In Kenya a flat plate collector would be 5-10 degrees. There are several different types of Chinese solar units.
How much energy do you get from the sun.
#13 .... On a clear day in Kenya or Uganda you will get about 1000 watts of solar energy all the time on one square meter of ground. A modern electric jug uses about 3000 watts of electrical energy to boil 2 litres of water in 5 minutes.. So you can see the amount of energy in sunshine is quite a lot.. We are collecting the heat from sunshine and using that to cook food for a small number of people. Very simple and easy. Also easy to collect sunshine to heat water.. But we do not get all the sunshine energy.. We only get a part of the energy from the sun because our machines and technology can give about 10 to 20 percent. Instead of the 1000 watts of solar energy per square meter the best we can do with in the shops solar panels is about 150 watts of energy...
We could maybe think of ways that are more efficient.. It always costs money to be more efficient. We are better to use simple reliable ways to use sunshine instead of using complicated expensive technology because more people can use the simpler method .. This solar cooking we are trying to use is for people who cannot afford electricity.. So it has to be simple and it has to be cheap and it has to work.. The frying pan method of cooking a meal is good. It is simple and easy to use. Takes about 20 minutes to 1 hour to cook a meal.. It is free.. No firewood to gather. No kerosene. No gas. No electricity. And the food tastes very good. But we also need a means to cook food when it is raining. This is the very efficient rocket cookers.

.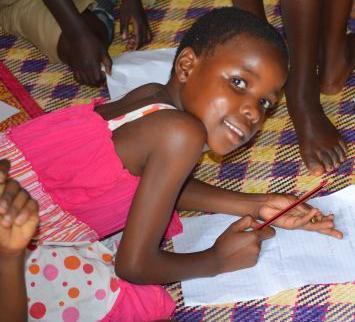 Jaguza child care
WHAT TO DO IF THERE IS NOT ENOUGH SUNSHINE

#14 .... You can use a gas cooker or a kerosene cooker. There are a number of small gas or oil type cookers on the market. A two ring gas cooker would be very useful.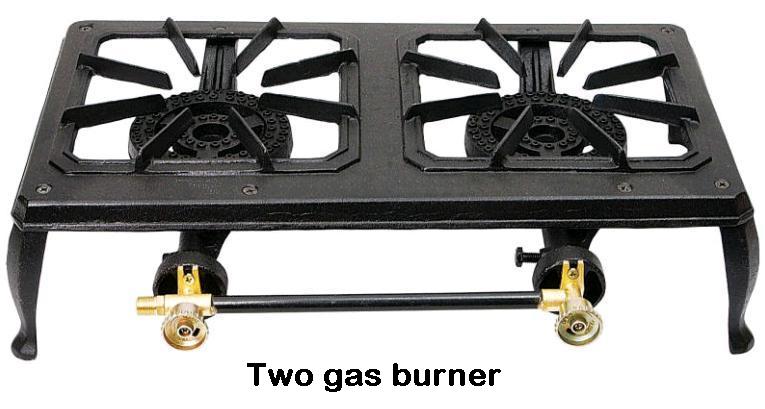 ...........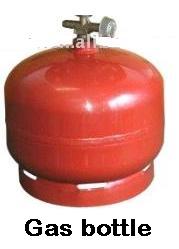 #15 ....What if you only have a small amount of firewood.
Nearly all 3 stone wood fires waste most of the wood it heats the stones the heat goes in all directions and smokes a lot. You can make yourself a very efficient wood burner called a rocket stove. Rocket stoves have been in Africa for a long time. The big difference is these direct the fire straight to the bottom of the cooking pan.. They have very little smoke and they can burn even small pieces of wood and they are super fast. You can make a wood burner that is good and works ok out of a large empty coffee can but for the best results you have to put the chimney inside an insulated barrel or container so that placing your hand on the outside you can feel no heat.. That means heat is not being wasted it is all going up to heat the cooking pot.. Some rocket stoves have been made using mud shaped by hand and put in the sun to dry or dried by the fire.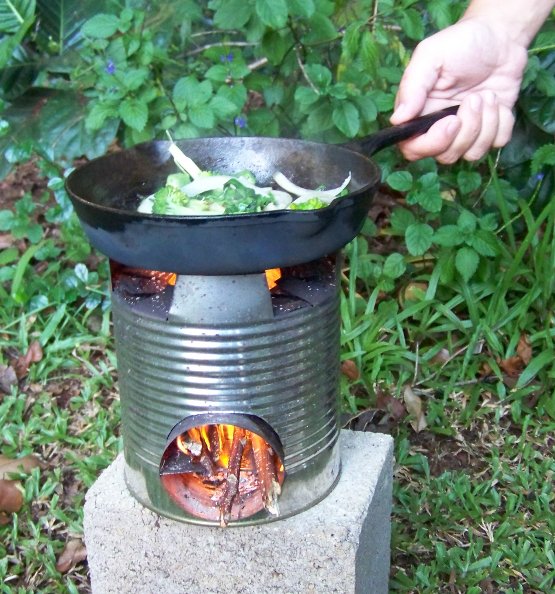 ....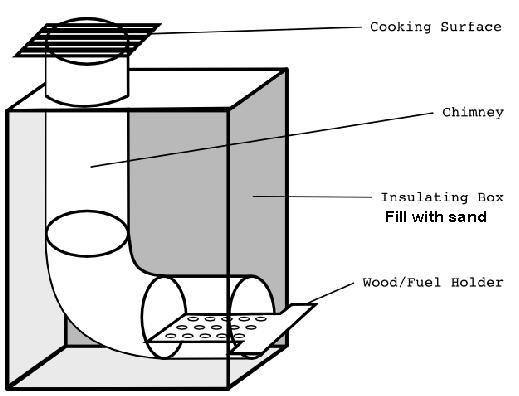 Easy simple cooker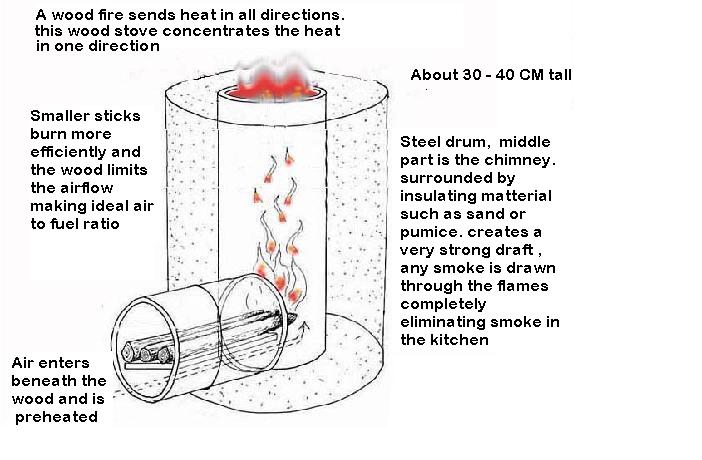 These types of rocket stove cookers work very well because the chimney is insulated so there is very little heat loss which means most of the heat is used to cook the food...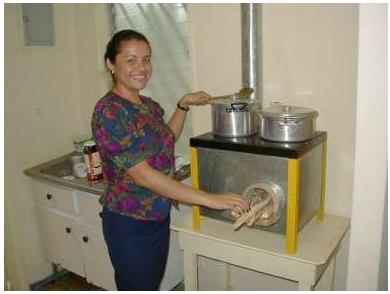 These are rocket stoves that people make.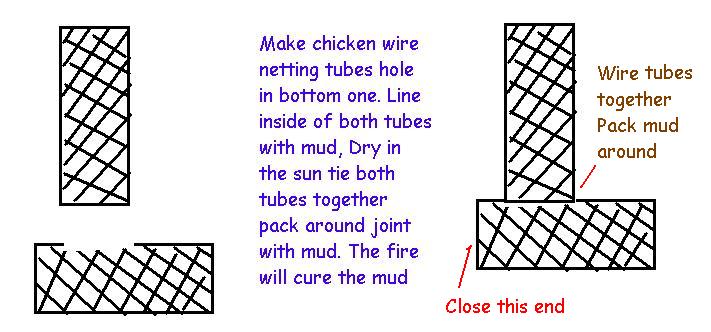 It is difficult to make the round curved chimney. Could it be made like this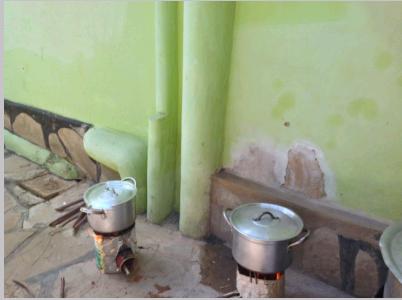 .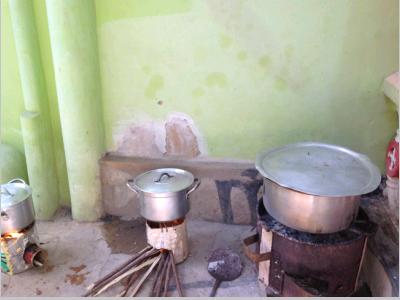 HERE ARE SOME WOOD STOVES MADE BY THE WORKERS AT THE HELLEN ORPHANAGE AT UKUNDA, NEAR MOMBASA, KENYA
NOW WHEN IT RAINS THEY CAN COOK DINNER WITH SMALL FIREWOOD..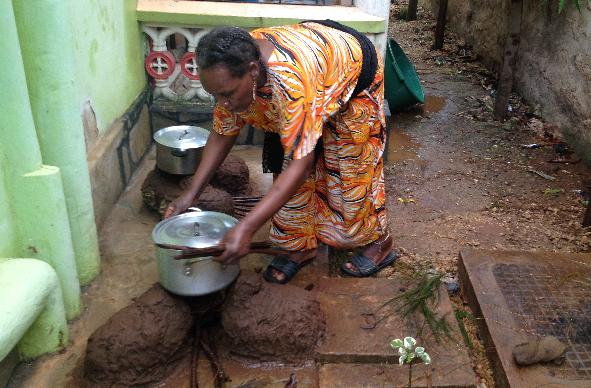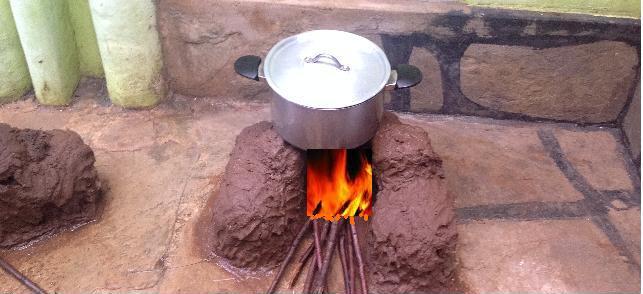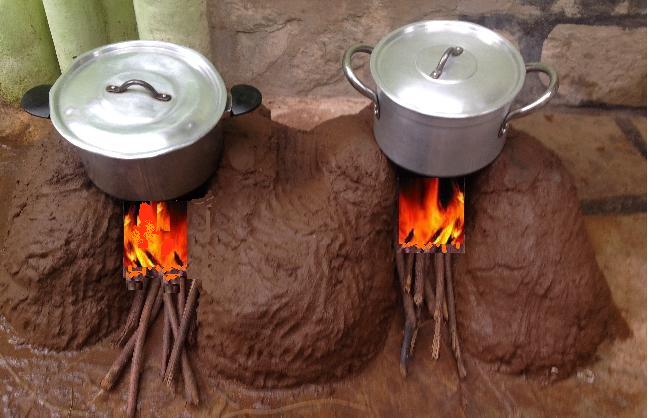 Here is African JIKO fire. Cooks fast. Swamp mud shaped

===========================================
HOW TO INCREASE FERTILITY OF LAND
A lot of land in Kenya and Uganda and many other african countries has less and less fertility as the years go by because fertiliser to spread on the land is too expensive to buy. A very good method to increase fertility of land is shown in SCIENTIFIC AMERICA magazine for MAY 2016 pages 59 to 61 and describes how planting some types of trees in amongst the crop adds fertility to the soil from fallen leaves and roots. The cost is low but the advantages of greater fertility of the soil are very high. As the trees grow larger their action become greater. The authors of this extremely interesting article show how different plants can also reduce damage caused by pests. Article by John P Reganold and Jerry D Glover
====================
#16 .... New building regulations specify houses in Kenya built after 2016 must use Solar hot water systems for hot water, showers, baths and kitchen. In the future there will be a strong move towards solar water heating.. Although Kenya's Energy (Solar Water Heating) Regulations 2010 have not yet come into force officially, they have already had an effect on the market. The draft of the regulation says that, "within a period of five years from the date of when these regulations come into force, all owners of existing buildings that require more than 100 litres of hot water per day shall install and use solar water heater".
More information www.erc.go.ke
.
.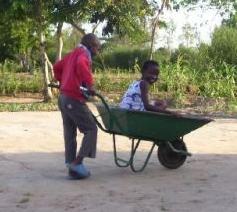 Naim and Natasha.... children I sponsor in Kenya
------------------------------------------------------------------------------

Most text and pictures on this web site are original material and belong to me
Richard Williams remp@ps.gen.nz
or their respective owners. To the best of my knowledge there is no hazardous material or unsafe information and everyone should use proper care and caution when dealing with hot water or hot food or hot cooking utensils.